"Guide to having a fun-filling camper van holiday experience. Come with me!"
One of the popular getaway destinations during June holiday for Singaporeans has to be Australia. Sure, people go Western Australia during the dry months for the cool weather, beautiful huge places, scenic highways and memorable farm visits.
Camping, is by far one of the most process-oriented (in a good way that you get to hands-on to experience almost everything) and earthy ways to vacation. Yes, we get to connect with our family and friends, alongside exciting sightseeing. I am talking about not just the usual park camping. We had our first campervan experience!
As a first timer to campervan, sorry we were not quite ready to take the challenge of driving this huge rig in a foreign land all alone. So guided tour with campervan convoy would be the way for us. Yes, we followed a tour package offering 5-day self drive plus 3 days city hotel stay. It fits our intention just as well.
All necesary bookings were nicely made by the travel agent prior to our departure from Singapore, of course. Simply needed to register our driving license and collect a 6-person sized campervan, get a short orientation on the campervan and its facilities, we were all ready to hit the road! As mentioned, itineraries firmed up by the tour guide, just key into the inclusive GPS, and set off to our first destination aka meeting point aka overnight campervan park.
Oh, we had to head to the supermarket for groceries and fresh ingredients to cook our first dinner, along the way to the campervan park. Anyway, the complimentary bag of food and raw ingredients prepared by our tour agent was enough for us for a dinner and breakfast of the following day, in fact.
Complete equipments provided for:
Basically, rental of campervan comes with everything. Yes, everything you need in an accommodation. Just bring your clothes, food, and of course, yourselves there. The most important component to me, surely, is the "kitchen". The campervan is fully equipped, from the basic stove, grill, microwave, pots and pans, cutleries, cups and glass to even wine glasses. I was really impressed.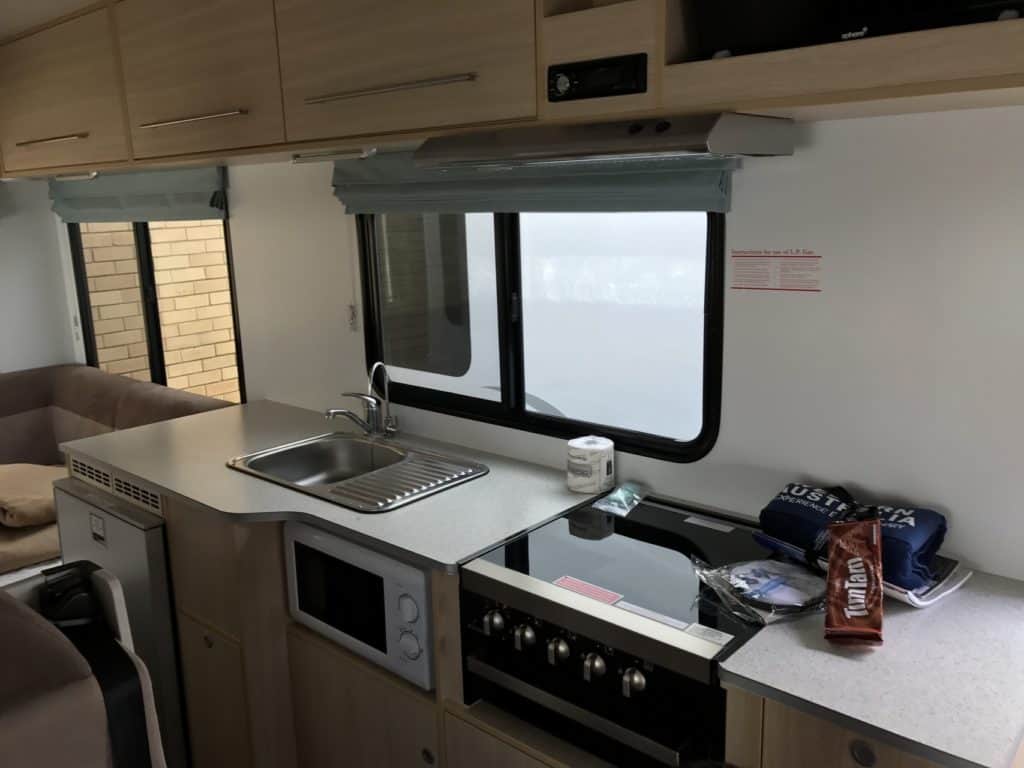 Things and food/ condiments to bring from Singapore:
Some things and food are allowed to be brought into Australia. Most importantly, the food items have to be sealed and preferably brand new. Another important point to remember is to declare at the custom that you are going to bring in food items. Things that I have brought with no regret are: Aluminium foil, cling wrap, recycle bags, plastic bags, sandwich bags, dark or light soy sauce, oyster sauce, chili sauce, salt, sugar, oil, and dried noodle or dried bee hoon.
May consider bringing rice, instant noodles cups, and snacks & biscuits, if you do not plan to go supermarket right away. All the aforesaid items are available at the local supermarkets, in fact, but mostly sold in large portion. That's the reason I brought my own there, cheaper and smaller portion. Dish washing detergent and cleaning clothes, even bath towels are given, but you may want to bring extra detergent as well as laundry soap, if you plan to wash excessively. Bear in mind that NO raw food and dairy products are allowed to bring in.
It's advisable to bring along mosquito repellent for any outdoor activities at the parks and farms, and apply sunblock lotion as driving long hours in day might be hurtful for the skin during the dry months. A pair of good sunglasses and large sun shields are recommended, too!
For the driver! Please be reminded to bring your driving license.
Food I've cooked easily for the mornings and evenings: 
If cooking is not your forte, especially during the vacations, buying frozen, ready-cooked food or simple take-out from the nearby town would be the solution. To me, having an opportunity to cook at the special place or in a foreign country is precious. Here are some of my simple and quick delicious "campervan food", for your reference. Oh, "campervan recipes" will certainly be provided. Stayed tune for my next post!
Campsites with full facilities for comfort overnight resting:
Stopping at proper campervan park or campsite is essential as you will get the power and water supply from the park. Facilities e.g. bathrooms, playground, laundromat service, BBQ pits and etc are provided. Most of the campervan parks we visited were good enough, but tour leader shared that the "big 4 park" should be the first choice for better upkeep environment. And yes, you have to book a place in the park, at an affordable rate.
Tips to drive:
One of the most important parts of having a campervan trip has to be the driving. Many of us were kinda worried about having to drive this huge campervan for long distance. We were, too, in the beginning. We did not probably have any experience with campervan in Singapore. Well, as a regular driver, it wouldn't be too difficult to pick up the groove, I told myself this. Fair enough, its easy maneuverability gives me enough confidence to handle it along the smooth and wide country roads. Just be careful not to get too close to the vehicle in front. Get ready to step on the brake way before approaching any stoppage is really important. Do not brake abruptly, but slowly, giving myself more leeway to stop in time and in advance.
Remember to store away all items placed on the surface tops before setting off for the next destination. Lock all drawers by pressing in the handle buttons, otherwise, things will just sway and fall along some turning or bumpy drives.
Campervan options:
Campervan from Britz or Maui comes in 3 sizes to accommodate 2 persons, 4 persons or 6 person. Getting one for larger capacity translates to getting a more spacious van. So, it's ok if you only have 4 person wanting a 6-person campervan. It's better, indeed. You may also opt for with or without bathroom. Stopping along the way for fuel, food and sightseeing would give you chance for toilet break.
Here's a video for simple facility tour:

Rental fee:
Though I did not personally go through the booking procedure, I promised some of you in my FB to help finding out the rental cost. And yes, for the big-six (3 queen-bedder size good enough for six travelers and a attached bath) costs about AUD$200 per day, or less during off peak season (NOT their summer holidays!).
I really did not get the usual feeling of home-sick. Traveling in comfort with this big-six was truly amazing and memorable. We simply had a house with us all the time. Yes, comfort food of our own, and "home" was just steps away regardless where we were. :)
Disclaimer: All the above are my personal view and experience from a food blogger, purely for sharing and casual reading. In case if you need more detailed information about where to rent the campervan in Perth, contact me personally.