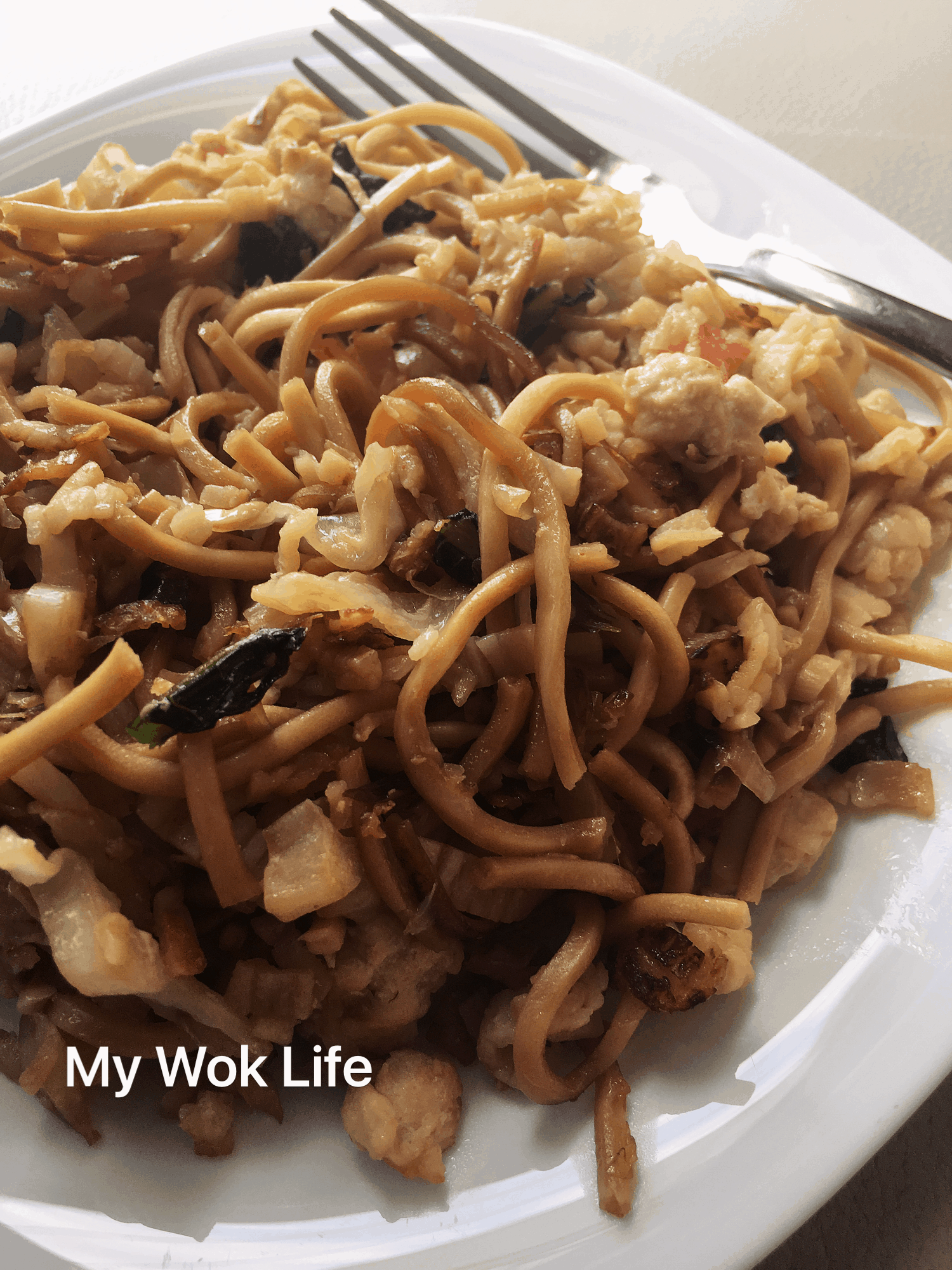 "It's not stir-fried noodle, it's noodle dry where you mix the sides and sauce into blanched noodles."
Making the Ee Mee its dry way is just to prevent the noodle from getting too soggy and greasy. I personally thought the dish taste more subtly, too. It wasn't overly saltish. Loved it so much.
And of course, for spicy food lover, bring on the sambal chili! Yes, just add it in.
Serves 2-3
Ingredients
120g of dried Ee Mee (Yee Mien, Cantonese egg noodle, 伊面), soaked in hot water
1/4 of cabbage, diced
3-4 stalks of Kai Lan (or Chye Sim), chopped
100g of chicken, diced
2-3 pcs of crab sticks, diced
6-8 pcs of prawn, shelled
Seasonings:
1 thumb of fresh ginger, minced
2 shallot, thinly sliced
2 cloves of garlic, mince
1.5 tablespoons of oil
1 tablespoon of oyster sauce
1/2 teaspoon of dark soy sauce
Method
(1) Drain Ee Mee from hot water once noodles are soften to al-dente consistency. Cut noodles into shorter strands. Reserve for later.
(2) Heat wok with oil over medium fire. Brown shallots, ginger and garlic. Add chicken, crabstick, prawns and stir fry till semi cooked. Add cabbage and Kai Lan veggies. Stir in dark soy sauce and oyster sauce. Continue to stir fry till all ingredients are cooked and softened. Heat off.
(3) Return softened Ee Mee, add it and mix well with the ingredients in wok. Serve hot.
Tips: Do not need to stir fry the soaked Ee Mee on heat. It's already cooked and ready to eat, simply softened in hot water which will serve as the "cooking". Any brand of Ee Mee will do.
* Add more oil, if desired. My version was towards the drier dish. Less greasy side.
* In fact, you may brown the shallot in oil. Pour the shallot oil onto the soaked Ee Mee first, and mix well. Then follow by the rest in wok as listed, with extra bit of oil (1 tablespoon).