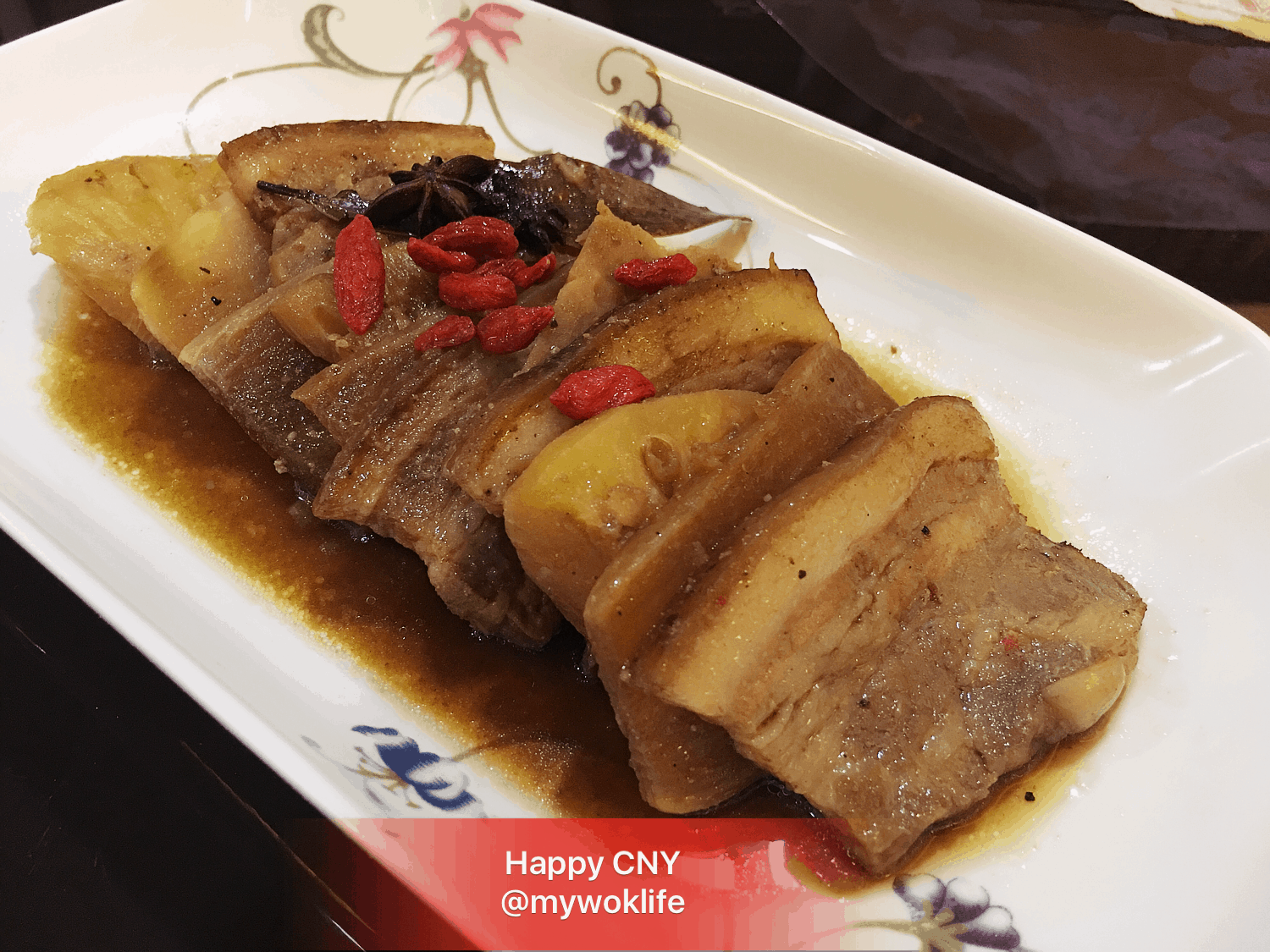 "It's not your ordinary Kou Rou (steamed pork belly) dish."
I have my conventional recipe for Kou Rou dish. And here, I was to bring my pork Belly dish to a new level, with the necessary festive twist. Simply to prepare it as one of our Chinese Lunar New Year dishes!
I would like to consider this an entirely different pork belly dish. Not only the side ingredients were adapted for auspicious purpose, the recipe was just different. Cai po, Miso paste, mirin, etc were used here.. Weird? It turned out so well, in fact!
White radish logically absorbed full flavor of the sauce, while pineapple yields mild sweetness that refreshes our palate, especially after having much pork fat. Of course, soft taro complements the dish to its perfection.
Sure you would want to spice up your reunion dinner and Chinese New Year gatherings with this delicious & auspicious dish!
Serves 4
Ingredients
500g of 3-layer pork belly
2 wedges of pineapple, sliced
1 small white radish, sliced
1/2 taro, sliced
2-3 tablespoons of light soy sauce
1 teaspoon of dark soy sauce
1 cube of red fermented beancurd (红腐乳)
1 tablespoon of chopped preserved radish (Cai Po菜脯)
1 tablespoon of Miso paste
1 tablespoon of Mirin
1 teaspoon of ground ginger
1/2 teaspoon of five spice powder
1/2 teaspoon of brown sugar
1/2 teaspoon of coarsely ground black pepper
2 pieces of star anise
1 piece of dried bay leave
Pinch of salt
1 tablespoon of cooking oil
Garnishing
Wolfberries, rinsed
Method
(1) Blanch pork belly in hot water. Pat dry and rub on dark and light soy sauces. Leave it to season for 20 minutes.
(2) Peel and slice taro and white radish. Sprinkle salt and cooking oil on the slices. Air fry at 180deg Celsius for 8 minutes (or deep fry till lightly browned). Set aside.
(3) Air fry pork belly at 180deg Celsius for 8-10 minutes each side (or pat dry and deep fry till golden browned). Leave it to cool and slice thickly. Note that do not discard the marination sauce away.
(4) Now return marination sauce and add red fermented beancurd, Miso sauce, mirin, ground ginger, five spice powder, brown sugar, Cai Po. Mix well.
(5) Place pork belly, pineapple, taro and white radish slices in alternate arrangement, in a deep serving dish. Pour sauce mixture over, and add bay leave and star anises.
(6) Steam pork belly dish for 45 minutes to an hour. Garnish and serve with steamed white rice, or plain buns.
A serving of this festive dish counts about 650kcal. Ow……
Tips: Use deep serving dish to plate the dish as it will turn lot more saucy after steaming.