"If you ask me, I would tell you that this place was comfortably… fun."
I wasn't too enthusiastic to visit JB town initially, but given as an assignment, I had to. And, I am going to tell you it's a place to go, especially with young children!
Though the location wasn't far from the Tuas second link exit, I decided to book the bus coach instead of self driving, at least I would be in a group along the way. And my plan was to return only the next day after an overnight stay at Hotel Jen Puteri Harbour.
Hello Kitty Town & Little Big Club
Both themed parks were located in the same building block of 3 storey, just next to the main entrance of Hotel Jen. In fact, both the hotel and theme parks were within the same compound.
The two theme parks were seemed as one, but you might wish to know that the admission tickets for Hello Kitty Town and Little Big Club were actually sold separately. Yes, option of getting ticket for individual theme park or the combo ticket for both parks was available. I didn't really see the need for choice, but perhaps it did serve its purpose to a certain extent. Well, it was for sure that combo ticket offers better value than the individual ones.
It was already afternoon ard 3pm when I made my admission into the theme park, after checking in hotel and settling our lunch at Kenny Rogers. I was aware that only 3 hours left before closing time, I still went ahead as I believed most of the early visitors and morning crowd would have already done with their fun by now. Thus, queueing should be minimal. Indeed, it wasn't too packed even on a Saturday of the long weekend.
Started off from the highest level i.e. 3rd floor down, as opposed to the usual sequence of 1st floor first. I thought it would be much less crowd this way, at any point of time. :)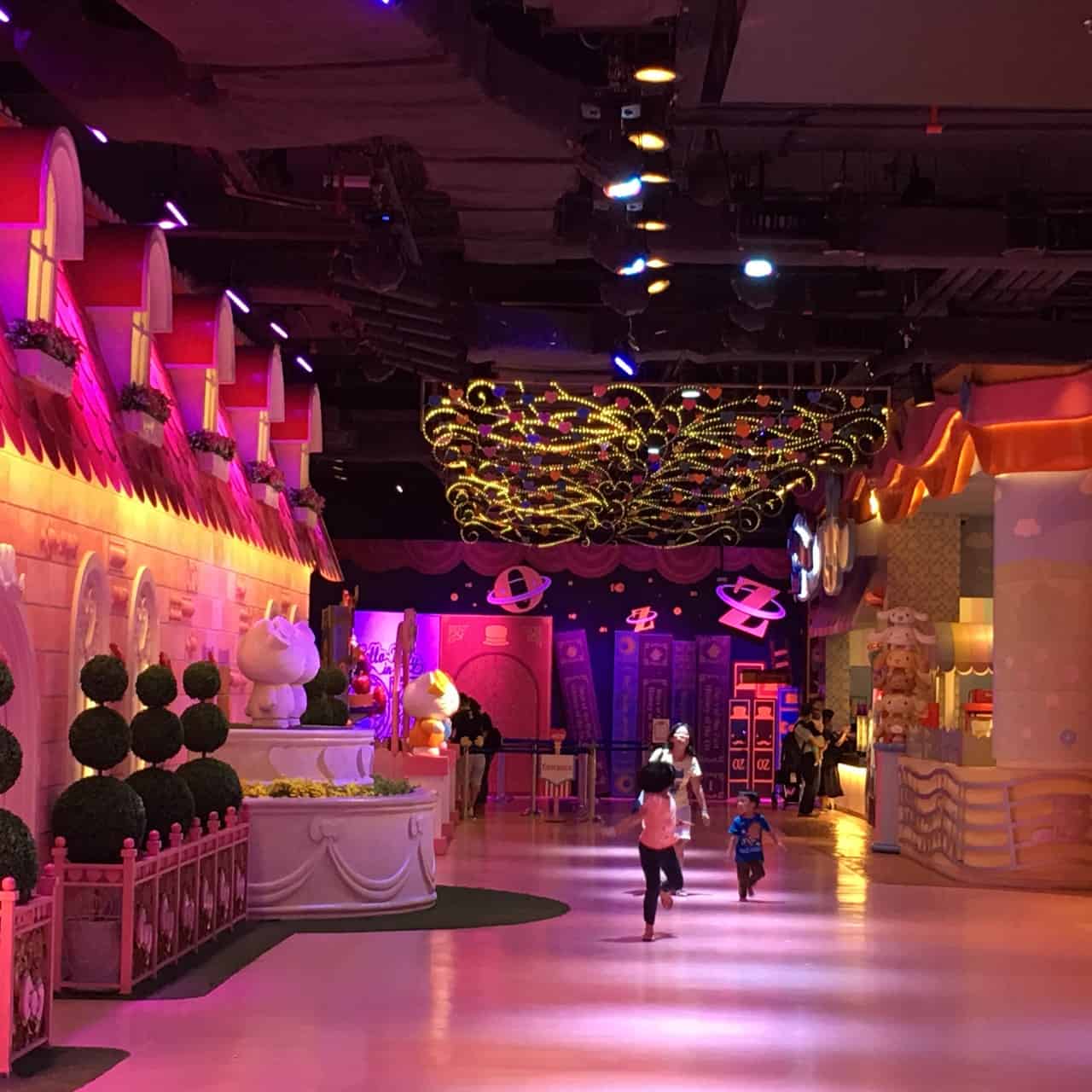 Going there this timing, children would have the privilege to repeatedly go on the same helicopter ride without needing to queue for long.  And just because didn't need to waste time queueing for the rides, 3 hours were merely sufficient to cover all 3 levels. Of course, I missed most of the stage shows which I wasn't really interested in anyway, but with slightly more time, I could have been able to stay longer to just appreciate the performances a little bit more. Hence, I thought a duration of 4-5 hour would be more ideal, then.
I didn't forget to also keep some time for having tea at the Hello Kitty cafe inside the theme park. However, there was another Hello Kitty cafe just located right at the main entrance of the building which opens to the public even without an admission ticket to the parks. I was quite sure that the later served better food with more varieties. :)
Besides, a Hello Kitty souvenir shop to go for at the end of the park visit would be there, especially for the shopping faves. If you liked, there was also a Toy'R'Us express just opposite the Hello Kitty's.
Overall, the theme parks were great and fun for children from 2-12 years old. I would say it was comfortably fun, because the rides there weren't too exhilarating, yet, giving a pleasurable experience to both the children and adults. Perhaps we didn't need to go through the hubbub which usually would be over a weekend visit to most of the theme parks elsewhere, I simply liked the atmosphere and park set-up here. :)
Hotel Jen Puteri Harbour
First floor upon entering from the main door is the concierge. I had to go one level up by an escalator or lift to reach the hotel reception area. The hotel staff were friendly and helpful. Check-in & check out procedures were efficient, too. They even provide refreshing welcome juices at the reception area.
In-room dining after a long fun day
Yes, after the long fun day, I was too tired to step out of the hotel room for dinner. Just placed my order through a phone call, I stayed in to take long hot bath, while waiting for the room service to arrive.
In-room dining service was available, with limited food selections though. However, the food were truly delicious. They served generous portion of great nasi goreng that I loved so much.
Buffet breakfast
Great spread of delectable food at the buffet. I liked their egg station, coffee machine, and Malaysian curry laksa the most. There served also some gluten-free muffins that were so soft and amazingly tasty. The availability of such thoughtful option was already a nice touch to the guests who need it. Kudos!
A booth at the restaurant entrance for takeaway coffee and muffins, after meal. Surprise?!
Facilities of the hotel
As part of the deal, this hotel comes with many facilities, too. Spa & massage service was certainly available, with additional charges. Every guest would be given a  RM100 discount voucher (if it wasn't just periodical promotion) upon hotel check-in. Considering the heavy discount to the rack rate, I personally found it worthwhile to enjoy this service. Please make advance reservation, if you need a specific time slot of the peak hour.
These children pool, spa pool (with warmer water in it) and a large infinity pool were necessary to guests who love water. Loved also the fact that the sky restaurant and pub were just right next to the pools. While I wouldn't probably swim under the hot sun, it was just not for me, I opted an afternoon tea at the air-conditioned bar with its opened doors to the natural air at the same time which served its great purpose as I could be within an arm-length distance from the pool. These swimming pools were simply one of the best facilities, in my opinion.
Of course, the hotel does come with a well-equipped gym room, too. I did not use it though. Oh by the way, shower rooms were provided at the health club for our free use, even if you have your hotel room checked out and still wished to continue using the pool facility there before departure. Another kudos!
Room rate
I paid about S$150 per night of a king-sized bed room.
Amenities and Food
Other than in-room dining, there was a Go-Cafe located in the hotel premise serving takeaway deli-food. To the uninitiated, their sweet treats eg cheesecake, truffle cake and muffins would be offered at half the price at 6pm daily. So, go early to grab before it was gone too quickly.
There was also a convenient store just next to the hotel entrance on the ground level, if you ever needed any common daily stuff or light snacks.
For those who just couldn't get over with the Hello Kitty fever, this large Hello Kitty café within the same premise opens to all guests. So, you may just drop by anytime to indulge in their adorable food. It offered a lot more selections of main meal and dessert as compared to the one inside the theme park.
Of course, there were many other eateries and restaurants for your choice. So, food was never an issue. Superheroes cafe would be one of the places to go with. Other than selling superheroes related apparel products at the retail store, superheroes themed cafe was part of it. Of course, all food were served with the relevant appearance and design of various superhero icons. I liked the food here not only by the aesthetic factor, the taste of their food, especially the burger, wouldn't disappoint you either.
The menu, in a form of a superhero newspaper, was really unique. For placing order, make your way to the counter, they exercised self servicing at the cafe. Ordered a Hawaiian pizza and a chicken burger which looked and tasted amazing. They used fresh pineapple for the Hawaiian thin crusted pizza and it tasted really great. This was the restaurant here I wouldn't missed. Price wise? Relatively affordable. Order of two items cost RM50+ (S$18).
Afterall, this travel option could be one of the nearest solutions to having an effective & fun holiday experience. :)