"Hotel stay here, good or bad for your vacation stay?"
In case you wish to know which hotel we stayed in Malacca, here's the pretty new Swiss Garden Hotel & Residences, we did.
The interior of the hotel as well as its rooms was elegant, spacious and looked classy, with a reasonable room rate offered. There is also a large balcony in each guest room, for a view or breeze.
Bed was comfortable, and there is a 2-seater sofa as well as 'see-through' bath provided in the room. Not all guest rooms come with straight sofa seats, my parents' room had the curvy seats which are unfit to lay flat down overnight. The hotel provides extra bedding at a reasonable rate, if third guest requires it. However, it's really not necessary to pay for an extra bed for your young toddler who usually co-sleeps with you, even though the hotel booking websites stated so, as one of their terms & conditions.
As for hotel activities, don't miss out their infinite pool and children water playground as well as the jacuzzi benches in the pool. The glass fitness centre is also situated right above the water overseeing the children playground area. Stunning.
Infinite adult pool for serious swimmers or romance seekers?
Yes, for the sun bathers.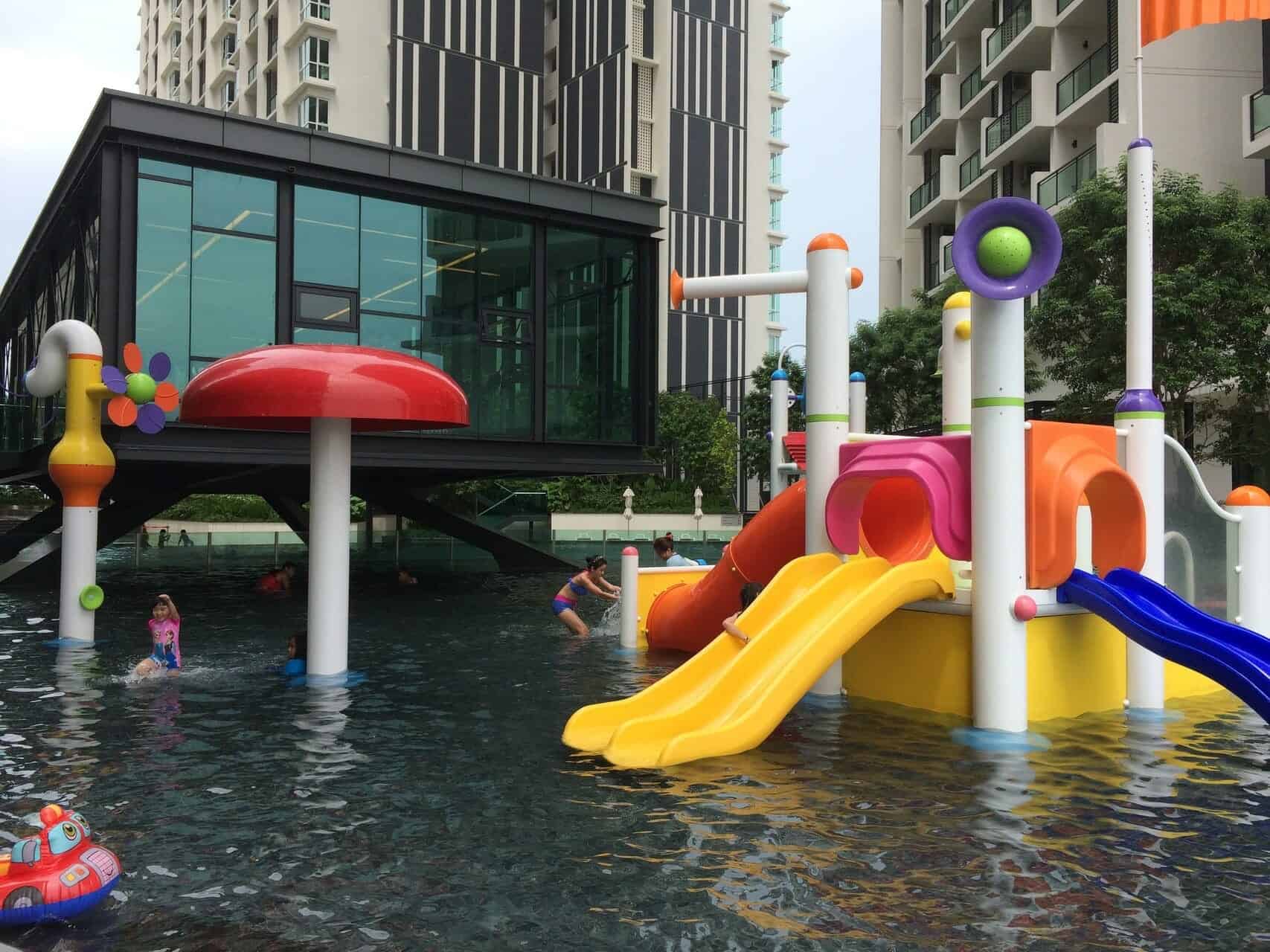 Children water playground offers loads of fun for the youngs and young-at-hearts.
Water feature operates only twice a day, 12pm (if not wrong) and 4pm.
This hotel is actually inside a new large shopping mall. So, it's very convenient for shopping and restaurant food, if you are one going for the usual popular restaurant brandings. In case it rains during your visit, no worries that you might stuck in your hotel room. Other than the shopping and eating, check out also the nice aquarium (The Shore Oceanariums) in the mall. My son loved the feeding of sea turtle activity that costs RM10 for the purchase of turtle food, on top of admission fees of about RM28. Remember to get the flyer which offers a 20% discount on admission fees from the hotel concierge.
Beautiful oceanarium.
Not only does the huge cylindrical aquarium look good, there are sharks oceanarium overhead and touch pool with many gentle sea creatures that would keep you and your young ones entertained for a while bit, especially during rainy day.
Baby sea turtles were part of the touch pool, but do not attempt to touch them as they are protected marine creature. It's for your eye pleasure with a close look.
Clams (Cantonese called it "hum"), are as large as a fist. How many do you need for your fried kuey teow?? Oops…. Sorry, marine life carers, bad joke from a stupid foodie. Kekeke..
Sea turtle village houses many large mature sea turtles for feeding session.
Side note, I reckoned adding this turtle feeding into your visit as part of the fun for you and your kids, if RM10 (for a small packet of fish meat) is something you can afford. I wasn't sure if the turtles were being fed regularly or just depended on the visitors, those turtles seemed really hungry. Anyway, my son enjoyed the feeding a lot as these turtles would just swim to you with food in your raising hand.
Oh I forgot to tell you that you would be given an option to get a pair of 3D paper spectacles for some lack-interesting sea creatures posters/ write-ups with 3D effect, at RM5. Unless this RM5 seems a penny to you, don't bother to get it. We bought one, and none of us was interested to use it, or rather able or bother to locate these '3D posters' on the wall.
With My Wok Life, me would never forget to mention food! The buffet breakfast of the hotel was good enough, with large selections of food.. If hotel buffet ain't for you, there is a huge food court called Lot 10 Hutong in the mall (2nd floor) where varieties were found, from Dim Sum, toast & coffee, to rice & noodle dishes. Loved the famous Kum Leng Kee's KL fried Hokkien noodle. It was even tastier than eating it at the branch in KL itself. The Penang fried kuey teow was good, too. But sorry, none of the food photo was taken as we were too hungry to feed the camera first. :D
With the above plus points which sounded attractive enough to draw in growing numbers of staying guests, some draw back tends to occur. This hotel is not located in the central area aka tourist attractions. Even to visit Jonker Street (Red House area), a long walk of 25-30 minutes is required. So, if you are not driving, please be prepared to hail a cab, and do remember to ask for the hiring rate first, if the cab isn't going on meter fare system. Having that said, the hotel location might, on contrary, turn into a plus point to you, if you are visiting Malacca on the weekends or holidays. For the known, super jammed traffic condition starts from the entering highway tolls all the way to the central area where most of the popular hotels are located, during peak season. Cars on the road would just seemed wrapping up the whole town. This hotel which located just at the area right 'outside' the central may be a help for you to beat the super heavy traffic, though. So, is it a pro or con on its location? It is very much depending, in this case. :)
To the hotel itself now, their reception area on the 1st floor (The reception counter on the 3rd floor for driving guests was possibly less crowded) often pooled with check-in and check-out guests. So, a long wait to check-in is probably unavoidable. Your booked room might not be ready for your check in until late in the evening, or you might be given a chance to 'experience' the used room of the previous guests before their housekeeping does! An untidied guest room would be designated to you without realizing by the reception staff that it wasn't cleaned up yet, if you are not in luck. That was what we had for at first. :)
Also, please note that this hotel has yet to designate its rooms into smoking and non-smoking.
Hence, decide yourself if this beautiful hotel with less attractive facility management suits your vacation stay.