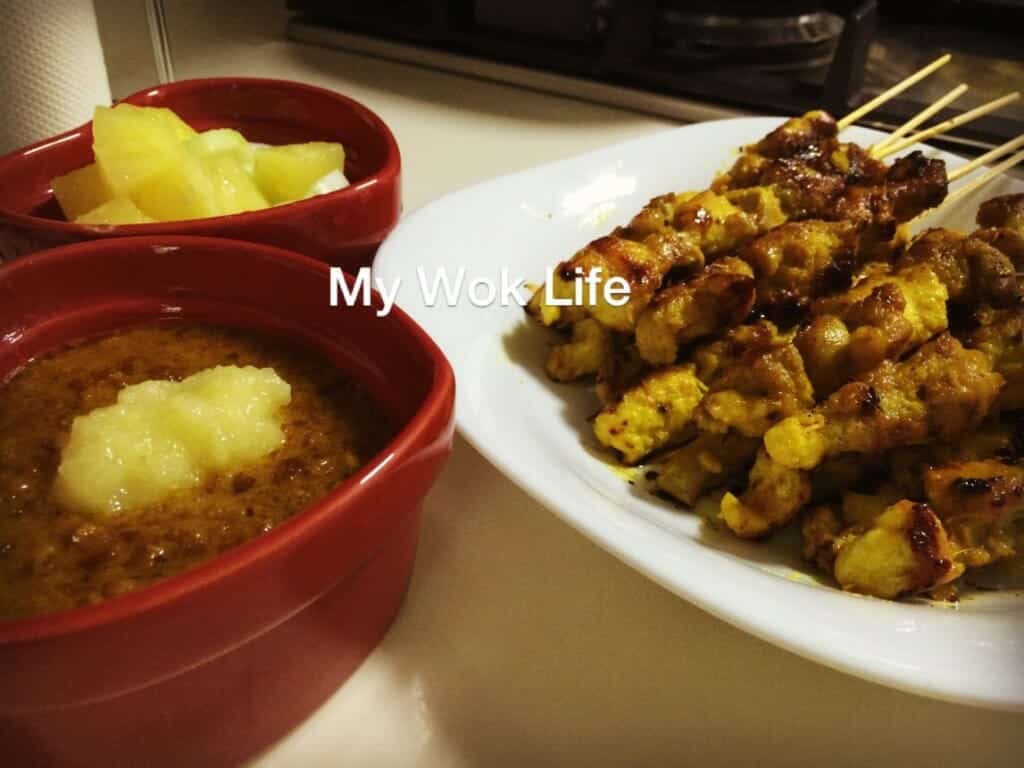 "Simple ingredients, for a good enough hawker treat at home."
Satay, barbecued chicken on-stick, is one of the famous Singapore/ Malaysia hawker food that everybody loves!
I have always wanted to cook satay at home, but the extended peeling & chopping, blending and long simmering preparation put me off. Only until today, my satays are finally served on the dining table. We loved satay, but I was a little skeptical to eat too much of the store-bought. Papa pressed me to make some of my own instead.
Not that I make really great satay, probably wouldn't beat the authentic Malay cooking, my recipes are good enough as a home cooked. And I did not use complicated recipes to cook my satay, just some simple and easy to get ingredients, I created this recipe of Satay!
Yes, for the fact that I used much simpler ingredients in my recipe, the satay peanut sauce, especially, was yummy. It was much likable by my family. :)
Well, I convinced myself that the long preparation was worthwhile. Everyone loves satays. So, come on, just don't be lazy…… Go do it! Anyway, cook a large pot of sauce, store/ freeze a portion out for cooking another dishes eg satay bee hoon another days, why not… :)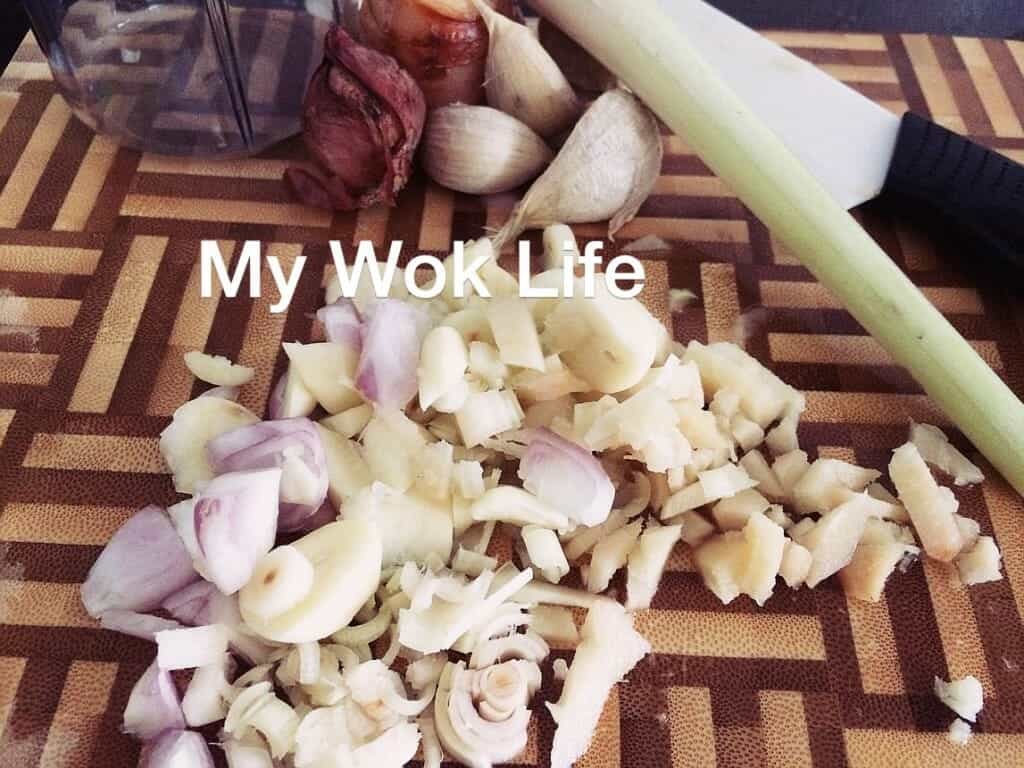 Yields 12 – 14 large sticks of satay and 1 large pot of peanut sauce
Ingredients for Satay
350g of boneless chicken drumsticks part, rinsed, pat dry and cut into small cubes
2 heaping tablespoons of raw sugar
1 teaspoon of turmeric powder
Pinch of salt
1 tablespoon of oil
1 tablespoon of honey
Ingredients (B1):
2 stalks of lemon grass, trimmed head and removed first outer layer, chopped
2 slices of blue ginger (a.k.a Galangal, or Lengkuas in Malay), chopped
3 shallots, peeled
3 cloves of garlic, peeled
Ingredients for Peanut Sauce
200g of coarsely grounded peanuts
100g of finely grounded peanuts
200g of coconut milk
300ml of water (maybe more)
1 teaspoon of fresh lemon juice (squeezed from quarter of lemon)
1 tablespoon of chili powder or chili oil (amount adjustable to your liking)
1 teaspoon of turmeric powder
4 tablespoons of raw sugar
1 teaspoon of salt
100ml of peanut oil
Ingredients (B2):
2 stalks of lemon grass, trimmed head and removed first outer layer, chopped
3 shallot, peeled
3 cloves of garlic, minced
3 slices of blue ginger (Galangal)
Garnish for peanut sauce:
1 teaspoon of fresh pineapple paste (blend it)
Sides:
Sliced cucumber and red onion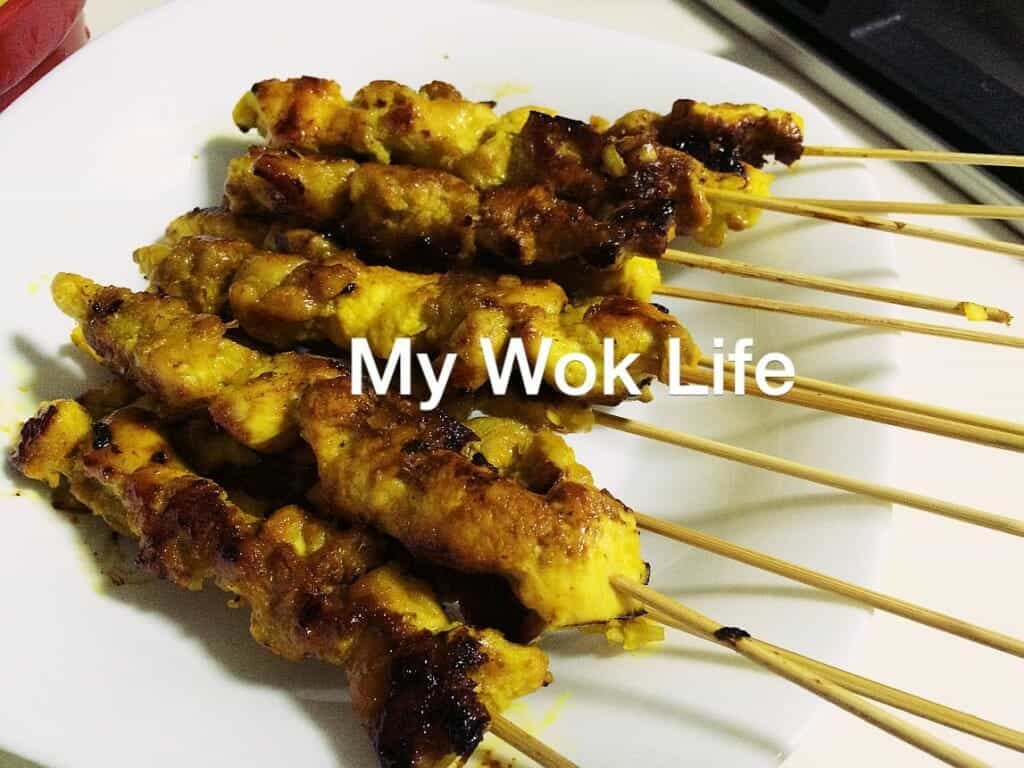 Method for marinating Satay:
(1) Blend Ingredients (B1) into fine paste.
(2) Add turmeric powder, sugar and salt into paste and mix well. Marinate cubed chicken in paste mixture. Chicken just be covered all rounded by the paste. Cover and store in refrigerator for at least 6 hours or best, overnight.
(3) When ready to grill, thread chicken meat on bamboo skewer, three quarter length filled will do.
(4) Grill satay on barbecue pit or grill pan on stove. Brush oil on pit or grill pan before placing satays on it. Flip and brush oil on satays from time to time until satays are browned. Lastly, brush honey on both sides and grill for another 1 minute or until slight burnt parts appeared on the meat.
Method for cooking peanut sauce:
(1) Blend Ingredients (B2) into fine paste. Set aside.
(2) In a dry heated pan, toast coarsely grounded peanut on super low fire, until aroma releases. Add finely grounded peanut and continue with the toasting till peanut turns slight brown and fragrant. Heat off.
(3) In separate pot, heat peanut oil on low fire. Add (B2) blended paste and turmeric powder, stir fry till fragrant. Add chili powder (or chili oil)
(4) Return toasted peanut and add into pot. Add lemon juice, followed by coconut milk. Stir well.
(5) Add water in batches. Stir to combine for each addition of water.
(6) Stir in sugar and salt. Let mixture simmer for 15 minutes. Heat off.
To serve, place satay and sides on plate. Scope peanut sauce into small serving bowl and top with pineapple paste.
A serving of 4 large satays with dipping of peanut sauce counts about 280kcal.
Tips: Brushing of honey on grilling satay has to be done last minute as it causes burnt on meat easily. You do not want your satays to be too burnt, especially to be eaten by children.
* For more a traditional satay marinade, you may add 1 teaspoon each of coriander powder, fennel seeds and cumin seeds. I did not as I do not wish to buy in large portion to use only little bit in a long time. :)
* Satay sauce may appear too dry, or dry out after long heating off. Since My recipe is catered for large portion cooking, I would suggest to just scope out required portion. Transfer into separate pot and simply add a little bit of hot water and simmer a little while before serving. Store the balance peanut sauce properly in refrigerator for up to a week.
* For kids sharing, you may want to omit chili powder, or add only sambal belacan into the sauce cooking at last stage.
* Coarsely grounded peanut is usually found at dry goods shelves whilst finely grounded peanut is sometimes placed at the baking supplies compartment. If those finely grounded peanut packets found are already mixed in sugar, no worries to use them. Simple reduce the amount in recipe you supposed are going to add in.