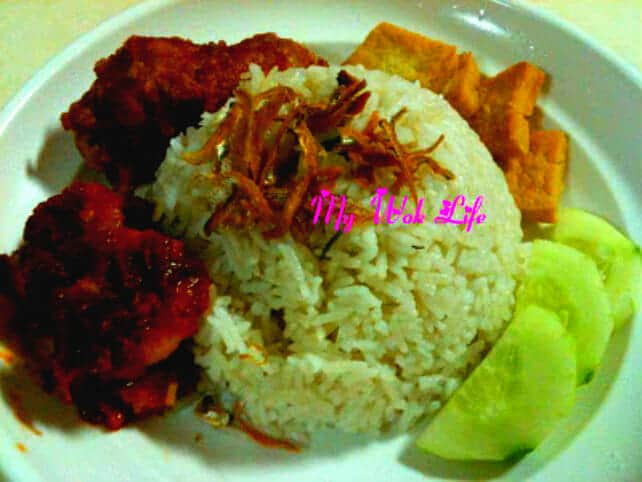 "What a great way to say hello to your overseas friends. Let your home-cooked do the job!"
Nasi Lemak, a common name in the list of the local food delicacies of Asia.
Nasi Lemak, one of the top Malaysian cuisine has its great influence to Singaporean. Many local Chinese, thus, eat and cook this aromatic rice dish, for breakfast, lunch and even dinner. As such, Nasi Lemak is not limited to just the Malay food stalls, it's commonly sold in Chinese eateries everywhere in Singapore. For the Singaporean Chinese version of Nasi Lemak, it comes with even greater varities of side dish. What makes it different from the traditional Nasi Lemak which wrapped in banana leaf and comes with standard sides e.g. egg and chicken wing or fried tiny Kampung fish, the Chinese Nasi Lemak allows you to pick or choose your favourite side dishes from the pool of selections provided by the stall/ eatery, in general. Any versions, they all taste heaven..
Nasi Lemak, literally translated as "fatty rice", the fat refers to no more than the fat of coconut milk added into the rice cooking. The aroma yields from the rich coconut milk flavour in the rice, making this Nasi Lemak dish so unique and delicious.
Now you know what's about Nasi Lemak, if you weren't at first. Here's the recipe I've cooked. Easy and quick.
Ingredients for Nasi Lemak (coconut cream rice):
2 cups of rice, rinsed
350ml of coconut cream (Santan in Malay)
3 slices of young ginger
4 leaves of pandan (screwpine) leaves, tied into a knot
2 cups of water to cook rice (about 500ml)
Method:
Add all in ingredients in the rice pot to cook in electronic cooker, or steam the rice over stove till cooked.
Ideal side dishes to complete the Nasi Lemak meal:
Serving for 1 pax
1 portion of Sambal prawns
1 Fried chicken wing
1 tablespoon each of roasted/ fried peanut (kachang) and fried crispy anchovies (ikan bilis)
½ hard boil egg, sliced
Few fried tofu cubes (*Just cut and deep fry with oil)
Few slices of fresh cucumber
* Sides are optional. The above listed are my personal preference. Include all or pick your choice(s) to compliment your Nasi Lemak.
A serving of my Nasi Lemak meal (with a smal portion of sambal prawns, 1 chicken wing, few pieces of tofu cubes, some sliced cucumbers and kachang & ikan bilis) counts about 600kcal. It's a little sinful, isn't it? :p
Tips: The amount of water to cook the rice should be as usual, if you like softer texture.
* In fact, the amount and types of coconut cream/ milk used in Nasi Lemak recipe is pretty versatile. Simply add more coconut cream, if richer flavour preferred. Both the thick paste-like cream or fresh watery coconut milk versions are fine. For later option, the amount should be increased for better aromas, too (up to 500ml = 2 full cups).
* Most of the side dishes are easy to prepare. For chicken wings and sambal prawns, look at my recipes. :)
* Preparation of Kachang can be done by roasting or deep frying the peanut (usually fried with its skin remained intact).