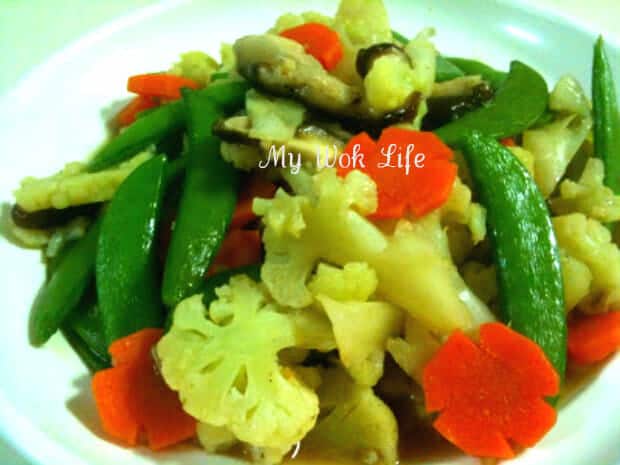 "Simple and delicious stir-fried mixed vegetables well liked by everyone in the family."
I've posted a stir-fried assorted veggies with mushroom and fish ball recipe in my blog. This is similar with some adaptions from this previous recipe. But it's less elements on the plate, yet more colourful, and cleaner looking now. Had the flower-shaped carrot slices to the mix for added texture and colour.
And, I did not use snow pea but the sweet bean, this time. In fact, I liked sweet bean. It does not taste sweet though. Sweet bean tastes and looks similar as snow pea, but it appears fuller in shape and its texture is crunchier than snow pea.
This dish can be seen as vegetarian dish, if change the condiments to vegetarian types by replacing chicken granule with mushroom/vegetable granule, from oyster sauce changes to vegetarian oyster-flavored mushroom sauce. Of course, omit the garlic, for strict vegetarian dieter.
Well, serve these aromatic stir fried mixed veggies as lunch or dinner, and spoon them over steamed rice makes your meal even greater and moister to be indulged in.
See recipe:
Ingredients
120 grams of cauliflower florets
50 grams of sweet beans
50 grams of carrot, sliced crosswise into thin slices with patterns
5 fresh Shiitake mushrooms, removed stem and sliced
100 ml of water
1 clove of garlic, minced
1 tablespoon of oyster sauce
½ teaspoon of chicken granule
Pinch of grounded white pepper
½ teaspoon of cornstarch, made into slurry with 2 tablespoons of water
2 teaspoons of oil
Method
1) Heat wok with oil over medium fire. Add garlic and stir fry till fragrant.
2) Add cauliflower, sweet beans and carrots. Stir fry for 10 seconds. Add water.
3) Cover wok with lid to simmer for 2 – 3 minutes, or until vegetables are cooked and soften.
4) Remove lid. Now you may increase heat to high-medium fire. Add in fresh Shiitake. Then, sprinkle chicken granule and pepper. Stir fry to combine ingredients. Add oyster sauce, continue to stir fry till all well combined.
5) Stir in cornstarch slurry to thicken the sauce to desired thickness. It's not necessary to use up all the slurry. Heat off and dish up. Serve.
A portion of stir fried vegetable with its gravy counts about 90kcal.
Tips: For vegetarian diet, cook the dish without garlic, and change chicken granule to mushroom granule, from oyster sauce to vegetarian (oyster-flavoured) mushroom sauce.