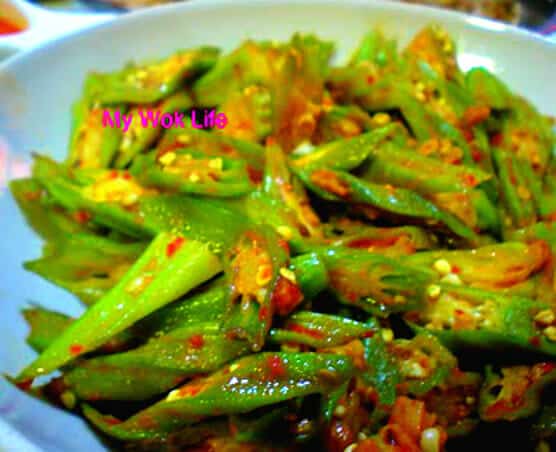 "Spice up your meal with this spicy ladyfingers dish"
Not many people like this vegetable, ladyfingers aka Okra, simply due to its slimey texture inside, when cooked. However, this vegetable has been one of my favourite, not just because it is low in saturated fat, and cholesterol, but high in fiber, vitamins and very rich in various minerals, I heard this vegetables may help in weight loss (chuckling)! I mean.. I liked it, too, of course, especially when it's cooked with chili paste or in curry gravy.
Spicy flavoured okra whets my appetite much more than usual. It complements steamed rice so well.
So, here I am going to share this simple chillied okra recipe:
Ingredients

8 stalks of ladyfingers aka okra, thinly sliced at diagonal angle
2 cloves of garlic, minced
1 teaspoon of dried shrimps, rinsed and soaked for 2 minutes, and then, drained and finely minced (干虾米)
1 tablespoon of sambal chili paste
Pinch of salt to taste
Just small pinch of sugar
3 – 4 tablespoons of water
1 – 2 tablespoons of cooking oil
Method
1) Heat wok with oil over high heat. Place dried shrimps and garlic into wok and stir fry till fragrant and lightly browned.
2) Add in Okra slices and stir fry in wok for 1 minutes. Reduce heat to medium fire. Add water and sugar, stir a little to combine well. Then, cover wok with lid to simmer for  3 – 4 minutes, or until water dries up. By now, Okra should be cooked and softened.
3) Shift Okra to one side of the wok to clear the centre space of wok. Add sambal chili paste and sauté until fragrant. Return Okra to mix with chili paste, add salt to taste. Then, stir-fry to combine well.  Heat off and dish up. Serve with steamed rice.
Cut it thinly to reduce cooking time, you may not even need to blanch it beforehand.
A generous portion of the stir-fried chillied Okra counts about 90kcal.
Tips: Use normal sambal chili paste or sambal shrimps chili paste. If use sambal shrimps chili paste, you may omit the addition of dried shrimps.