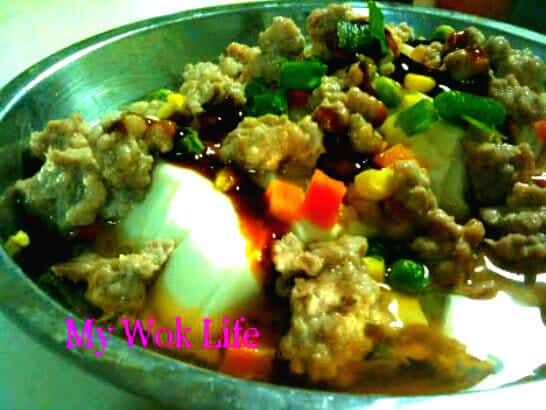 "Have some light and refreshing tofu dish for dinner, yet you'll never need to give up delicious taste and the healthy balanced diet"
Oyster sauce (蚝油), the perfect condiment that adds an easy burst of flavor to this tofu dish without any added work. Simple ingredients & simple cooking method, for flavourful taste & colourful appearance.
Spoon the finished tofu over hot steamed rice, your children will love it!
Ingredients
1 block of white beancurd aka tofu, suitable for steaming (about 200 grams)
50 grams of minced pork meat, coated well with 1 tablespoon of light soy sauce and 2 tablespoons of corn starch
2 tablespoons of mixed peas (consists of peas, corn kernels and diced carrots, about 20 grams)
1 small piece of young ginger, minced (about 10 grams)
1 clove of shallot, chopped
1 tablespoon of cooking oil
Pinch of salt
Garnish/ Topping
2 tablespoons of oyster sauce
Chopped spring onion/ scallions
Method
1) Season minced meat with light soy sauce and corn starch. Mix well and set aside. Cut tofu block into thick slices. Arrange tofu on a steam-proof serving dish.
2) Sprinkle minced ginger on top of tofu. Top or place minced meat in between each slice of tofu. Then, top mixed peas on it and sprinkle salt.
3) Heat wok with water over high fire. Place a iron steam rack in wok. When water is boiled, place tofu dish on the steam rack. If you have a steamer, use it. Steam tofu for 5 minutes.
4) In the meantime, heat another wok or skillet with oil over high heat. Add shallot and fry till fragrant and just lightly browned. Heat off and allow few minutes to stand.
5) Remove tofu from wok or steamer, pour fried shallot oil onto tofu. Then, top oyster sauce all over tofu in zig-zag arrangement and garnish with spring onion. Serve hot.
This tofu dish has smooth and tender consistency. It's flavourful due to the varieties in the dish, yet it's never overwhelmed. Truly loved the natural aromatic taste and smooth mouthfeel of this tofu dish. Moreover, it's steamed! And it has quite a balanced diet with tofu, vegetables and meat. Hence, it's welcome by many dieters..
A portion of my tofu dish counts about 150kcal.
For dieter, you may also lighten the dish by omitting the oiling step (4). Forgo the fried shallot oil and replace with just sprinkles of sesame oil will do, if desired.
Tips: Do not over steam the tofu in order to retain better and smoother texture.