"This upside-down apple tatin will simply make a statement to your cooking history! Voilà!"
French is back again! Hey! Remember my French cook out session where I learnt the making of this ever-famous apple tarte tatin? I finally made it at home again, and here I am sharing the recipe and my experience of making this luscious French apple tarte tatin.
As I mentioned before, apple tarte tatin, or simply called it apple tatin, is fun to make. This is an "upside-down" caramelized apple tart which you have to over-turn the whole tarte after baked, in order to serve. It is easy to understand why apple tatin is so immensely popular. This apple tatin takes on the traditional French apple tarte features the pleasant sweet and refreshing sourish flavors that's ideal for the sunny weekends. It's delicious and truly an indulgence topped with Crème Fraîche (French soured cream)~
Use of frozen puff pastry to make an express dessert within an hour, makes it hassle-free and convenient to have this elegant and sumptuous dessert anytime. I got my frozen puff pastry from NTUC supermarket (find it at instant frozen food compartment). Well, I can show you the homemade puff pastry next time round when I make the apple strudel, if you are really keen to make your own pastry.. ;p
As for the choice of apple, 90% of the people knows that Granny Smith green apple is the best for making apple tatin, while the rest thinks that it is alright to use any other type of apple, e.g Gala and Fuji. I personally prefer to use green apple as it helps to offset some sweetness of the caramel, and yields a refreshing taste in the palate. The apples used in this recipe have to be fresh and firmer apples so that it will not be too soggy and mashed after cooked and baked. That's why Granny Smith apple is more suitable to be used for sautéing and baking due to its well-known durable nature.
Ingredients:
5 – 6 firm green apples, peeled, halved and cored
1 sheet of puff pastry (or 8oz unrolled puff pastry, roll into 10″ thin round sheet), thawed
100 gram of unsalted butter, thawed for 5 minutes
150 gram of sugar
Toppings (Optional):
Crème fraîche
Method
1) Peel and cut apples into halves. Core, and remove stem and the blossom end. Coat with few drops of lemon, or simply rinse with salted water, to prevent it oxidation (browning).
2) In a 10″ ovenproof round skillet, melt butter over low heat. Put in sugar, and let it dissolve and simmer on very low heat, until mixture is thick and syrupy in pale honey colour. You may turn up the heat a little, if do not find the mixture bubbling. Do tilt the skillet and move it around from time to time to prevent over heat (but do not need to stir it with spatula). Remember to watch out the fire throughout the caramelizing process, do not let the mixture burn!

3) Arrange apples as many as you can, neatly and compactly. Apple flat surface down. Sauté apples over medium heat, undisturbed, for 5 – 8 minutes, or until apples are browned, and juices are golden and bubbling. Over turn each apple (now flat surface facing up) and let it sauté for another 5 – 8 minutes. In the meantime, preheat oven to 425°F or 210°C.
4) Bring apples together in the skillet and place in the middle of the oven. Bake 10 minutes.
5) Then, remove skillet from oven and lay pastry round over apples in the skillet. Return the skillet to oven and bake for 20 – 25 minutes, or until pastry is browned and fluffy. Remove skillet from oven and let it cool on rack for 10 minutes.
6) Invert a serving plate with lip over the skillet, hold skillet and plate (with heat-proof gloves) tightly together, and over-turn to invert tarte onto the plate. Now, rounded side of apples will be facing top with the puff pastry underneath (that's what we called upside-down tarte). You may then slice the apple tarte to serve with 1 tablespoon of crème fraîche on top of each slice.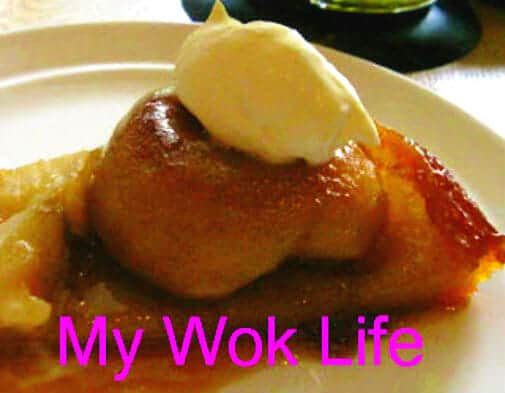 Voilà!
A slice of apple tatin counts about 400kcal.
Hey! Wanna see how's the BURNT caramel look like?
Log on to my FaceBook Fan Club to check out the real stink burrrny. Yes, I screwed up the first caramelizing (medium heat was too strong.. sob..sob). So, see and learn from me, do not repeat the wrong step. Cook with PATIENCE! :p
* If you find it difficult to caramelize sugar with butter. Do it this way, place only the sugar to melt and simmer till caramelized. Then, add in butter to melt and further caramelize.
* Skip Step 4, if the apples are soften enough. Poke apple with a toothpick to test its texture.
* If your frozen puff pastry is unrolled, roll it out gently on a floured surface with a floured rolling pin. Cut out the sheet to fit slightly larger than the skillet with a sharp knife, using a plate as a guide.