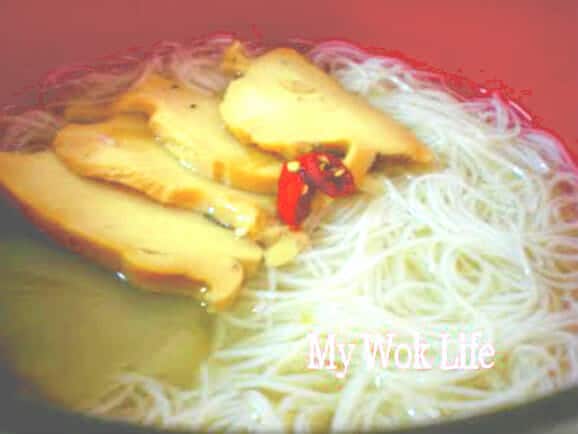 "Express & light, but luxury lunch deal at home!"
Not sure what to have for lunch? I had plenty of Szechuan vegetable soup cooked in excessive portion for dinner on a weekend yesterweek. But the pork ribs in the soup were all finished up the same night, left only the vegetables with soup. Plenty of soup! It would be a waste to discard the soup, I used it to cook bee hoon soup for my lunch the next day. Yes, since there was a can of abalone in my storage bought during CNY, it would be good to enjoy it with my plain bee hoon (rice stick or rice vermicelli) soup!
Yeah, just the Szechuan vegetable slices and abolone slies in bee hoon soup. It's a simple but luxury lunch meal!
Ingredients
Half package of rice vermicelli aka bee hoon (about 250 grams), soaked till soften
1 medium-sized lumpy Szechuan preserved vegetable, steeped for at least 2 hours and sliced
1 can of Abalone, thinly sliced
2 cloves of garlic, minced
Sprinkle of white ground pepper
Drops of sesame oil
1 tablespoon of cooking oil
A pot of water, 50% filled (abt 1000ml)
Garnish:
Red chilli, julienned
Fried shallot (Optional)
Method:
1) Heat large pot with oil over high fire. Place garlic and stir fry till fragrant and lightly browned. Pour in water and liquid from canned abalone. Bring it to a boil.
2) Add in steeped and sliced Szechuan vegetables, reduce heat to small fire and simmer for at least 1 hour (*You may even add some meaty pork ribs or chicken meat with bones into the boiling to enhance soup taste). Add pepper ans sesame oil to add fragrance. Then, place sliced abalone in a strainer, blanch abalone in the strainer in the soup for just 1 minute. Remove and set aside.
3) Blanch bee hoon in another pot of boiling water for 2-3 minutes. Drain and divide into bowls. Top with desired amount of sliced abalone on the bee hoon. Laddle soup and pour over bee hoon and abalone slices. Garnish ans serve hot.
I used overnight soup base. Otherwise, follow the above listed steps.
Calorie in this luxury light lunch meal counts about 300kcal. And, that was the simple quickie light lunch meal over my wonderful weekend!
Tips: Steep Szechuan vegetable long enough to extract the excessive salt in it. Taste the soup constantly while boiling to make sure it does not taste overly saltish. To reduce its saltiness, you may slice it first before steeping. Remember, the abalone stock from the can is also briny taste.
* Just a quick blanch of canned abalone thin slices will do. Do not slice it too thick pieces, and also, avoid over-cooking it as it might turn rubbery texture. I bought New Zealand Abalone in Brine by New Moon Brand.
* Choice of bee hoon type good for soup: You may choose brands that come with thinner strands.