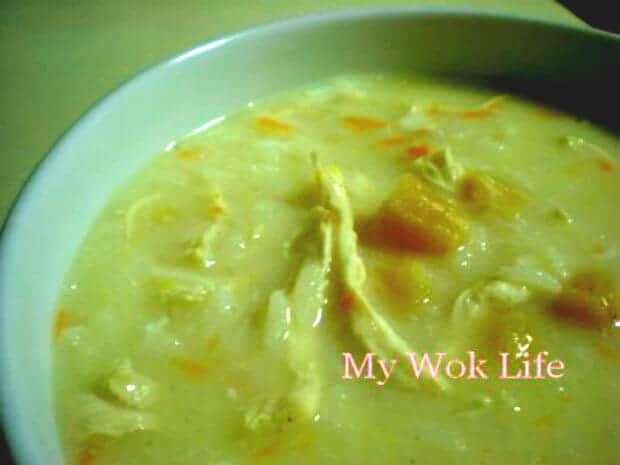 "Have a quick-fix dinner for you and your loved ones with my simple and delicious shredded chicken congee with dried scallops and (shredded) carrot recipe (干贝萝卜鸡丝粥)!"

I personally think cooking congee/ rice porridge is the easiet dish. Simple and quick to fix a warm and nutritious light meal.
This is not so simple shredded chicken congee, but added with dried scallops for better flavour. I was glad that carrots were also added to the cooking, not only making it a better balanced-diet dish, the overall taste was enhanced with natural sweetness yielded from the carrots. Shredded carrots, instead of adding it in pieces, made a better food presentation with its bright orangy scattering. It surely makes the food more appealing, not to mention that pleasant subtle taste of this congee. For one who does not like vegetables (carrots), this is the best way to have it!
In Taiwan, eggs are sometimes beaten into it to thicken it to a gruel, with much silky-smooth consistency. Eggs will not be added too early or cooked in the congee for too long in order to have it well-emerged into the congee, and I did the same here. Such cooking style is adopted quite often in my porridge recipes, where you probably won't get to eat the (solid) egg so much, but it was the fragrance and taste of the eggs that count! Taste of eggs was pretty in evidence in each mouthful of congee! Indeed, beating the egg into the congee made it smoother and much tastier than having without it.
If you have not tried it before, do it tonight as dinner or late supper. Forget to remind you that, this conngee is also a good breakfast choice (winking smile)!
Ingredients
1.5 cup of rice grain, rinsed
1 large piece of chicken breast meat part/ fillet (about 200 gram)
10 mini-sized (about size of small finger nail) dried scallops (rinsed with water) / or 3 – 4 chunky thumb-sized dried scallops (soaked for 15 minutes till softened)
1 carrot, finely shredded
¼ teaspoon of mashed ginger (姜蓉)
2 medium eggs
1 tablespoon of fish sauce (鱼露)
Pinch of salt (about ¾ teaspoon) and generous amount of ground white pepper
1 large pot with 8 cups of water (about 2000ml)
Method
1) Rinse rice grain 1 to 2 times. Boil rice grain with a pot of water over high heat.
2)When boiled, add in dried scallops, and whole piece of chicken breast meat/ fillet to cook for 10 min. When chicken is almost done, remove from pot, and let it cool.
3) In the meantime, reduce heat to low fire. Stir the rice porridge constantly in order to achieve smooth consistency.
4) When chicken meat is cooled, shred it. Return the shredded chicken meat into the pot. Add in fish sauce, and stir to combine. Simmer the porridge and chicken meat with constant stirring until the rice breaks down and becomes fairly viscous congee, about 20 – 30 minutes.
5) Add shredded carrots, mashed ginger, salt and pepper. Continue to simmer for another 10 minutes. Heat off, immediately beat two eggs into the congee and stir vigorously to combine well. Cover pot with lid for 1 minutes before serving. Laddle into bowl(s), and serve hot.
Congee can be garnished with scallion (spring onion) and fried shallots. Paired it with fried fritters (fried dough sticks 油条) may be done so for better taste and varieties, but no, not this time. I felt contented with its original flavour, and the subtle taste yielded from such gastronomy.
The liquid of congee will present fairly yellowish with a touch of orangy in colour due to the mixture of shredded carrot and egg yolks. I think it looks more alluring that way (chuckling). Anyway, just to remind you that a bowl of my shredded chicken congee with dried scallops and shredded carrot counts about 250kcal. Pretty low in calorie huh!
Let's dig into this delectable chicken congee happily!
Tips: To cook the shredded chicken together in the congee, please remember to shred the chicken meat thinly. Otherwise, return the cooked chicken meat shreds only at last stage of boiling in order to retain the tenderness of chicken meat.