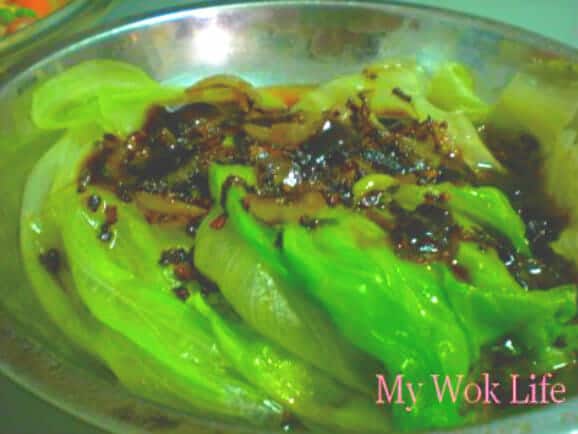 "Simply great vegetable dish"

This dish is very common and well known in Asia countries such as Singapore, Hong Kong and Malaysia. You may easily get the dish at our hawker centre, coffee shop (煮炒摊 – "Zhu Chao Tan") and even Chinese restaurant. Singapore normally uses Kailan for this dish, while Malaysia and Hong Kong use lettuce. I personally prefer the lettuce as it yields more crispy texture and the greeny taste is milder.
It is very simple dish to cook at home, in fact.
I used the same recipe for fried fish dish. Its taste is fantastic, even on vegetables. For those kids who do not take vegetables, this recipe makes it great to eat, both adult and child will sure like it!
Serve 4

Ingredients
1 small lettuce, leaves separated
A pot of water (for blanching purposes)
Sauce:
1 small shallot, thinly slices (best to remain in rings)
1 clove of garlic, chopped
1 tablespoon of light soy sauce
2 tablespoons of vegetable oil
Sprinkles of sesame oil
1 tablespoon of oyster sauce
Method
1) Boil a pot of water over high heat. When water boiled, blanch washed lettuce leaves till 80% cooked to retain its fresh green colour. Drain, and reserve for later.
2) Clean the wok. Add vegetable oil into wok, fry ginger strips over medium heat, until crisp and golden brown. Remove from wok, and set aside.
5) Using the same wok, add shallot. Fry shallot till lightly browned over medium heat. Then, turn fire to low heat.
6) When shallot turns brown, quickly add in light soy sauce. Add in sesame oil after the "sizzling effect" created by the mixture of hot oil and soy sauce. Heat off. Pour the sauce over lettuce. Add oyster sauce on top of the vegetables. Serve.
This vegetables dish counts 220kcal per portion.
Tips: Add some sugar in the boiling water for blanching, it helps to enhance its bright green colour.
* Change type of vegetables to Kailan or "Xiao Bai Cai", as desired.