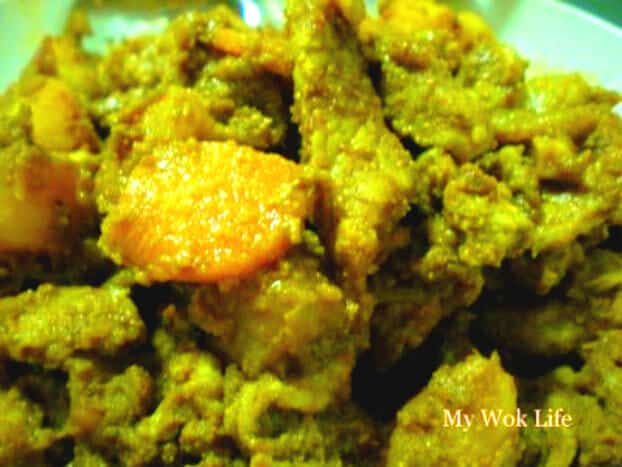 "Authentic Asian flavour cooked instantly for Homesick Foreign Landers"
Dry curry means curry without wet gravy. It is a good choice as savoury filling of bread, tortilla wrap, naan and roti prata (I love it with steamed rice though :p). I prefer dry curry as the taste is stronger and more intensive to the palate. The curry texture is not too wet on the rice, but enough to complement it.
Good to cook it if you intend to bring it out to friend's pot-luck party, picnic or as food gift to your relatives. No hassle and no worries that the gravy will spill while travelling.
This Asian flavour is definitely a signatory dish to showcase in any function/ food party, especially if you stay in Western countries. Don't be worried about getting the curry powder mixture, get an instant ready-mixed pack to cook it. The taste is as good and success rate is close to 100% (chuckling).
Ingredients
350 gram of shoulder butt pork, sliced
2 large potatoes, cut into wedges or bite-sized cubes
1 carrot, cut into cubes or bite-size lengthwise
1/2 packet of meat curry powder, about 100 gram (Baba's brand used in this recipe)
2-3 tablespoons of chili powder
2 cloves of garlic, minced
2 shallots, minced
1 sprig of curry leaves
½ cup of coconut milk (about 100 gram)
Pinch of salt (about ½ teaspoon)
1 cup of water (about 150-200 gram)
1 tablespoon of cooking oil
Method
1) Heat wok with oil over high fire. Add curry leaves, followed by minced shallot, garlic and lemon grass, stir-fry till fragrant. Reduce heat to medium fire, add in curry powder and chili powder, and fry for 1 minute (be careful of the pungent smell).
2) Place in pork meat and stir-fry for 3 minutes. Add water by pouring around the edge of wok. Add in potatoes and carrots, and sprinkle salt. Stir-fry for another 2 minute to mix well all ingredients with the curry paste.
3) Add more water bit by bit, if necessary. Simmer for 20 minutes, without lid on, or until gravy dries up. Add coconut milk, and stir fry for 3 minutes. Heat off, and serve.
It has root vegetables e.g. potatoes and even carrots, cooked together as 1-dish meal for express dinner cooking during your normal working days. Less than 1 hour to get this dish prepared. If you have more time to spare, try to marinate the pork with some curry power/ paste for 15 minutes. Mix 2 tablespoon of curry powder/ paste with the pork beforehand.
This dry curry pork dish counts about 350 kcal per serving.
Tips: Packet curry powder in various brands is available in major supermarkets (dry goods or spices compartment). Alternately, get the meat curry mixes from India store in the wet market. The store seller will mix the necessary curry spices for you, when you tell her/ him that it is to be used for cooking dry curry pork (S$0.70 – S$1 worth of amount should be sufficient). For convenience sake, may also use instant meat curry paste, for stronger taste, too.