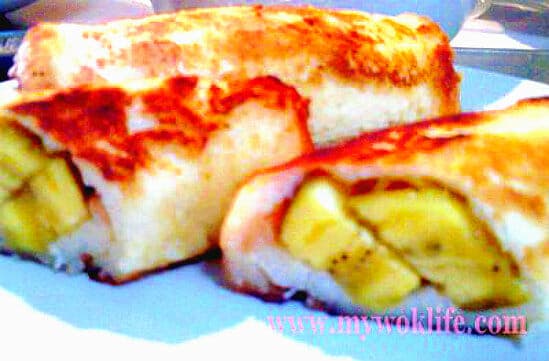 "Who doesn't like fried banana fritter?? I like, I like it so much!"
Though I like fried banana fritter, I seldom eat because fried banana is just too sinful for diet watcher! So, I created my own version of fried banana.
Simply love this particular way of serving the bananas.
Ingredients
4 slices of white bread, trim edges
1 wedge of banana, sliced
1 teaspoon of vanilla essence
1 tablespoon of condense milk
½ cup of milk
½ cup of cornstarch
1 cup of oil
Method
1) Place milk in a large bowl. Add in vanilla essence.
2) Dip 1 slice of white bread into milk mixture, and lay the bread on clean flat large dish.
3) Place banana slices on bread, and drizzle condense milk on top.
4) Roll the bread, pinch at edges to seal the opening. Then, coat the whole bread with cornstarch. Repeat steps for the remaining bread.
5) Heat wok with oil over medium-high heat, fry bread for 2 min, or until golden brown. Serve warm.
Calorie of this banana roll counts about 250kcal per roll. However, with bread, milk and banana, this snack can be considered as healthy snack, especially home-made one (you don't use the same oil for too many repetitions). You may make this as breakfast, too!
This vanilla flavoured fried banana roll is definitely fragrant and delicious, even for someone who does not take banana and milk, he/ she will just love this!
Tips: Use pan-fry method to save oil, if preferred.
*You may like to drizzle condensed milk on top of the fried rolls as garnishing instead. As such, the banana rolls will taste sweeter.