"An elegant, low fat seafood pasta dish, for light and quick mid-week dinner, that whets your appetite!"
Since the first time I had this similar type of wonderful homecooked pasta dish, I was in love with its perfect flavorful taste.
Hence, with the similar cooking method, I have made several adaptions to it, with slight changes in condiments used, and various side ingredients to go along with it each time, when I felt like having this pasta again.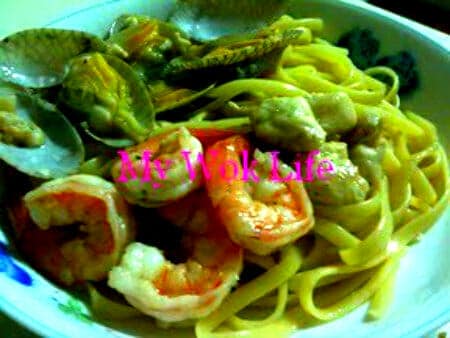 Previously, we had the claims and prawns, or added with diced chicken fillet version… With both spaghetti and linguine pasta noodle in respective cookings, I had the flower crab version this time (also slight change in recipe)!
And I must tell you that the change of main side ingredients to flower crabs does make quite a distinctive seafood flavour to this pasta.
This pasta tastes simple, but excessively fresh with full seafood flavour in the palate with each of its bite!
Ingredients
300 grams of dried linguine 
3 – 4 medium sized flower crabs, washed, trimmed and cut into halves
100 grams of fresh Shiitake mushroom, removed stem and sliced
500 grams of chicken stock
1 tablespoon of Chinese rice wine (I used Shao Hsing Hua Diao rice wine)
1 teaspoon of Thai fish sauce
¼ teaspoon of salt
¼ teaspoon of sugar
2 cloves of garlic, thinly sliced
1 tablespoon of olive oil
A pot of water (for blancing noodle), added with ½ teaspoon of salt and 1 teaspoon of olive oil
Optional:
Asparagus, blanched for 3 minutes in boiling water added with some salt and sugar
Method
1) Boil a pot of water over high heat. Add salt and olive oil. Place linguine strands into boiling water and half cook the strands for 2 – 3 minutes.
2) In the meantime, heat olive oil in large saucepan over medium fire. Add in garlic and sauté till fragrant. Add in flower crabs and stir fry for few seconds. Then, pour in chicken stock. Cover pan with lid to simmer for 1 minute.
3) Now, drain linguine and transfer these half-cooked strands from the pot to the pan. Add in salt and sugar. Stir fry all ingredients to combine. Cover pan with lid. Reduce heat to low fire and simmer for another 3 – 5 minutes, or until strands are soften and most of the chicken stock dries up.
4) Remove lid. Increase heat to medium fire again. Add in mushrooms, followed by fish sauce and Chinese rice wine, stir fry to combine well. Pasta noodles should be tender and moist without watery sauce. Heat off and dish up. Arrange cooked flower crabs on the noodles and place 3-4 stalks of blanched asparagus on the side, if opted to go along with some greens. Serve while warm.
A generous serving of my flower crab linguine counts about
360
kcal.
Tips: Make sure flower crabs are fresh.
* Serve crab with shell, if you do enjoy the pleasure of peeling crab shells as a complete eating experience. Or, serve only the crab meat after removing from its shell, for easy eating.
* Use fresh linguine, if desired. Skip Step 1.