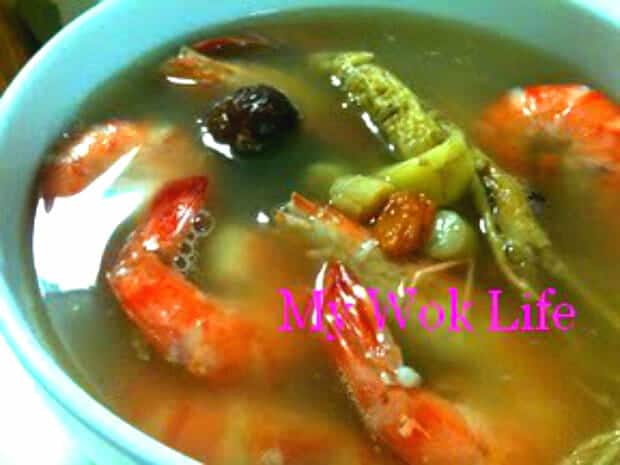 "Ginseng Prawn Herbal Soup tasty and healthy"
Ginseng shrimp herbal soup, or we usually called it, Ginseng prawn herbal soup, is not an usual dish. Diners will be more familiar with Ginseng chicken soup and/ or Drunken prawns, but not so the prawns in Ginseng soup though.. Yes, I guessed so. However, it turned out great. Resembling Drunken Prawns, but this has milder flavour, with more soup in the dish. Great taste, great dish great nutritioned soup!
Easy to cook. You may even boil the soup in slow cooker in the morning, for long hours. Then, simply add in prawns to simmer for 5 minutes, when about to serve as dinner.
See recipe:
Ingredients (A):
10 medium fresh prawns, trimmed
1 teaspoon of sugar
Pinch of pepper
Soup ingredients (B):
2 tiny Korean ginseng, whole roots
1 tablespoon of wolfberry aka goji berry
1 large dried scallop or 1 tablespoon of tiny dried scallop, soaked for 30 minutes and drained
3 – 5 red dates
Seasoning:
1 tablespoon of Shao Hsing rice wine
Pinch of salt
1 pot of water, 50% filled, about 1000ml
Method:
1) Trim and season prawns with sugar and pepper for 20 minutes. Devein but shell remained intact or use whole shell prawn as it is, up to your preference.
2) Bring a pot of water to a boil over high heat.
3) When boiled, place ingredients (B) into the pot.
4) Bring it to another boil and reduce heat to low fire to simmer for 2 – 3 hours. Add salt and rice wine to enhance flavour.
5) In separate pot, boil lightly sugared water to blanch seasoned prawns for 10 seconds. Remove prawns from blanching pot and tranfer to the soup pot. Simmer altogether on low heat, for 5 minutes. Heat off and serve hot.
Tips: Replace Shao Hsing rice wine with XO or other hard liqour for stronger and more pungent flavour, if desired, and to be consumed by adults only.