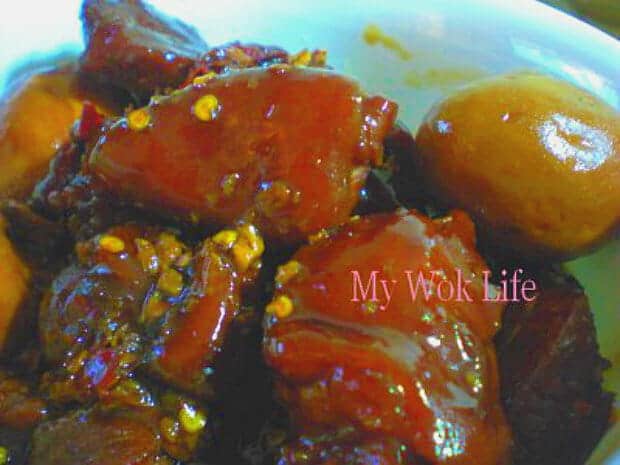 "Believe me, it's the best homemade braised pork meat I have ever tried!"
This recipe was originally featured in a popular magazine. When I was flipping through the magazine, the food picture of this recipe shown on the magazine attracted me for a second look. I decided to give it a try as most of the ingredients used in this recipe were what I already had at home, or easily get it from supermarkets/ grocery shops.
Seriously, it was very delicious! I was so proud of myself for giving it a try. This recipe does not yield traditional briny-tasted braised meat with five-spice flavour. It was a hot spicy pork dish with a hint of sweet plum taste.
This dish was cooked with pig knuckles. Why knuckles? Having pig's knuckles (猪手) dish during Chinese Lunar New Year is a distinctive way to celebration this occassion as knuckles in Chinese is called 猪手, similar pronunciation to 就手, which means convenient, handy, easily obtainable.. So, there is always this Chinese phrase, 横财就手, symbolizes to good gambling fortune, after a knuckles feast during Chinese Lunar New Year. This recipe, is surely a good festive dish for Chinese!
Besides good symbolism, it is still a wise choice to prepare the dish with knuckles in normal days, to get to eat its tender meat with chewy skin and less fat. It was extensively tender and flavoursome after the long braise. Superb! For someone who does not eat pig skin, I think it's worth to have a bite or two of these jelly-textured skins.
I cooked this dish in a large clay pot. Not sure why, but most of the old folks advised using clay pot for long braising meat dishes. I guess, it helps to retain moisture better, in a way?! Anyway, using a clay pot to cook this braised knuckles yielded a more traditional-looking Chinese dish, and it looked kinda alluring, to me (winking smile). It's ok, if you do not have a large enough clay pot, use slow cooker, or even wok.
I have to remind you to deseed the dried chilies, if you can't take spicy food. With 20 dried chilies in the braise, it yields super hot flavour. So, the less chilies you have deseeded, the more spicy taste it will be.
Ingredients A:
1 pig knuckles, chopped into bite sizes
1 tablespoon of dark/ thick soy sauce
3 tablespoons of light soy sauce
4 tablespoons of sugar
1 tablespoon of white vinegar
4 eggs, hard boiled
Ingredients B:
5 thin slices of ginger
20 dried chillies, deseed some to reduce spiciness to your desired taste
8 – 10 cloves of garlic, skinned or with skin intact
1 star anise
2 tablespoons of cooking oil
Ingredients C:
3 tablespoons of oyster sauce
1 teaspoon of sesame oil
2 tablespoons of plum paste/ sauce
2 tablespoons of fish sauce
1 tablespoon of dark soy sauce
3 cups of water (about 750ml)
Pinch of salt and pepper to taste
For sauce thickening purpose:
¼ cup of cornstarch slurry (made of 1 tablespoon of cornstarch with ¼ cup of water, amount adjustable)
Method:
1) Wash knuckles thoroughly, and marinate with seasonings A (dark soy sauce, light soy sauce, sugar and white vinegar) for 2 – 3 hours. You may keep it in refrigerator while marinating. In the meantime, you may boil eggs. Peel egg shells when cooled, and set aside.
2) When marinating is done, heat large clay pot with 2 tablespoons of oil over high fire, stir fry ingredients B (ginger, dried chillies, star anise and garlic) until fragrant. Then, add in marinated knuckles.
3) Stir-fry knuckles until almost dried up, add seasoning C (sesame oil, oyster sauce, plum sauce, fish sauce, dark soy sauce, salt, pepper and water) and combine well. Add in hard boiled eggs. Cover pot with lid, and bring it to a boil.
4) Reduce heat to low fire, and simmer for 2 hours, or until meat become tender.
5) When it is done, stir in cornstarch slurry to thicken the gravy. Serve hot with steamed rice.
I have to thank to whoever created this recipe. It made my dinner an excellent 1-dish-meal. My family enjoyed it so much, but was a little bit too spicy for their palate (as I did not deseed any of the chilies at all).
For goodness sake, please give it a try.
A portion of braised knuckles with one hard boil egg counts about 525kcal.
Tips: Deseed half the amount or all of the dried chillies, if less spicy preferred.
* Thicken the gravy with cornstarch slurry towards the end of cooking. Use less slurry if more gravy preferred.
* If 1 portion of knuckles is not enough to feed 4 diners, or for some who don't take knuckles, add some shoulder butt meat (about 250 grams) into the dish. Need not to increase the amount of condiments/ seasonings, just remain as it is.