"You do not need to be a professional photographer to take studio-grade photos now. Let me tell you why……"
Good lighting is one of the essential elements for great close-up photography of food and dishes as well as any other detailed objects. Having a simple yet professional and good quality portable lightbox is my solution. I would choose the WhiteBox™. Yes, I've tried a few versions, and literally disappointed by either the quality or the trouble of setting it up, until I've gotten a perfect one from Whitebox™.
I have since used it in my food photography, for my blog postings and assignments. This lightbox helps me to obtain my desired photo effect. The photo quality has successfully impressed even the professional camera crew which I've worked with in the most recent cooking variety program, HeyChef2, on a Channel 8. This perfect tool is well-liked by the cameramen. Yes, they do.
Here you would see the difference between taking photo with and without a lightbox:
This portable lightbox from WhiteBox™ comes in two sizes i.e. 40.5 x 40 x 43cm and 20 x 22 x 25cm. The package comes with the folded light box, 4 different colors of backdrop sheets i.e. white, black, green and red, as well as cable for the attached LED lights, all contained in a black carrier bag.
It's completely portable and handy which makes it so convenient to bring out for my onsite food photography assignments.
Quick and Easy to Set Up:
An user-friendly magnetic structure allows user to set up in 60 seconds. Simply unfold and snap it up! It doesn't require an expert to do it.
Attached Lighting to enhance the photo taking:
The lightbox is attached with 25 powerful pure white LEDs along the side of the top. It's to ensure product detail and colour accuracy.
Shoot From The Top:
Create amazing flatlays. Its unique design with a velcro striped porthole on the top giving the user an access to take photo from top-down view (only for 40.5 x 40 x 43cm).
About WhiteBox™:
WhiteBox™ is a company that provides lightboxes that allows both experts and amateurs to take studio-grade photos with their camera or smartphones without the need to incur high expenses. They bring a simple and affordable way to snap high quality photos to e-commerce owners on a budget. WhiteBox™ is a pre-perfected, plug & play photo studio that allows users to snap amazing product photos without any expertise needed.
Click here: WhiteBox™ to see more product photography with the lightbox!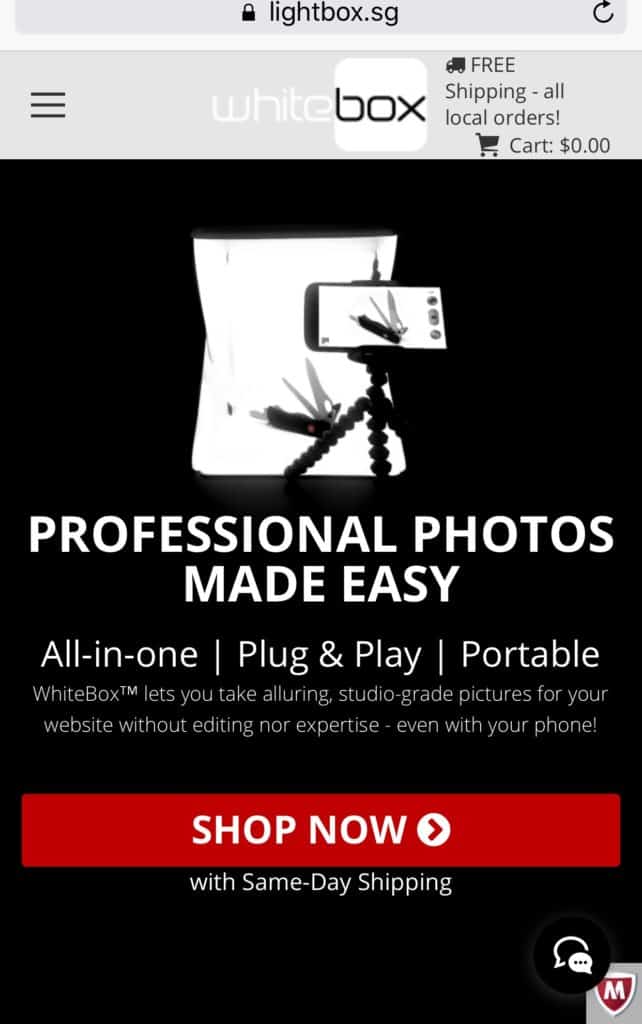 Not only the professional photographers, we as an amateur in photo taking or one who loves to take detailed object and food photos at home, needed this most.
And, I am sharing with you the cost and discount deal of owning the WhiteBox™:
Price of 1 Lightbox with 40.5 x 40 x 43cm is $57, and 20 x 22 x 25cm is $40.
For purchase of >10 pcs, you will be entitled to a 25% discount + free delivery.