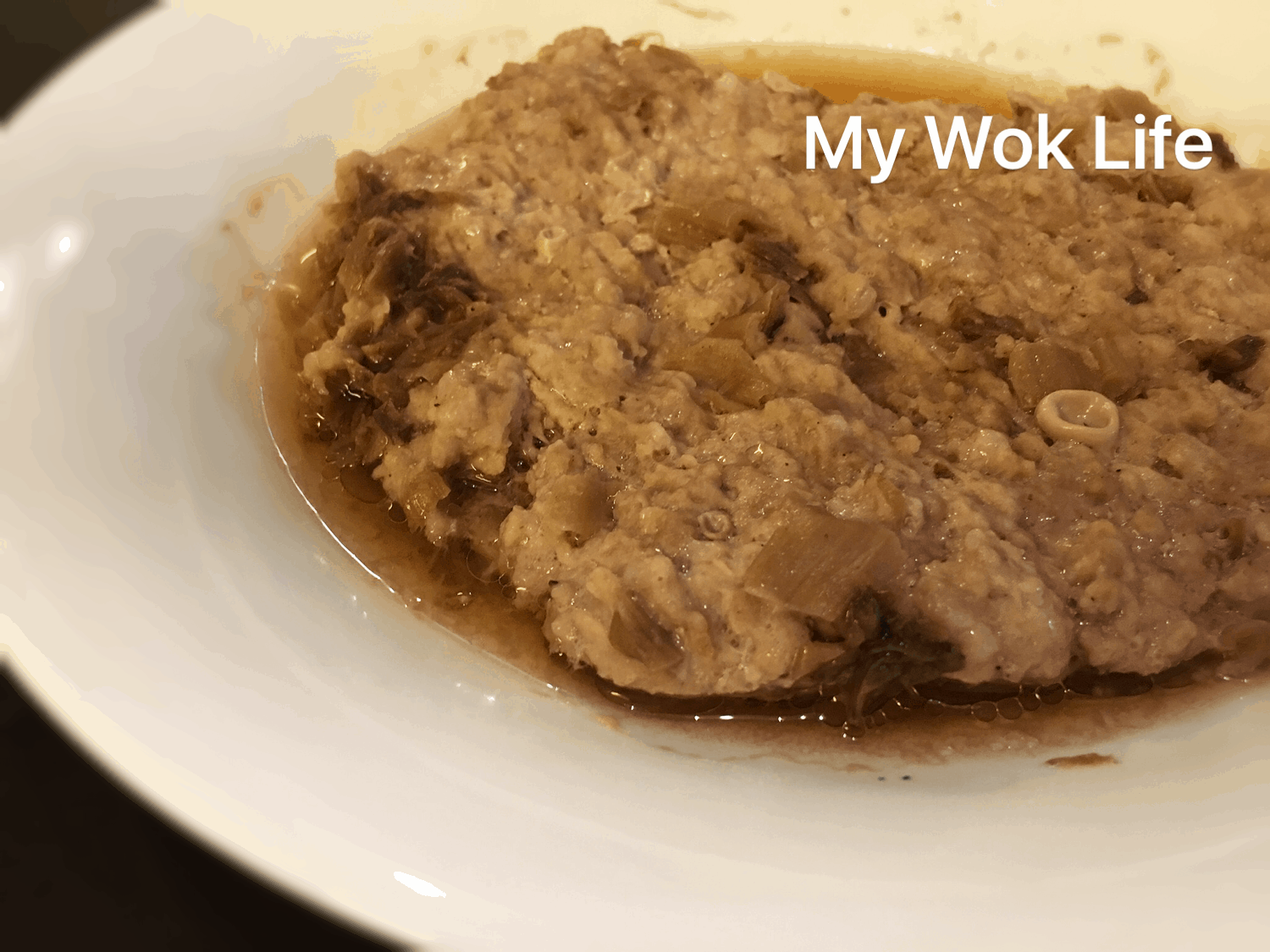 "It's always known as the childhood dish cooked by grandma….."
One of the regular Asian dishes often cooked by grandma back in our childhood days. It's nothing fanciful, and almost every household knows how to make this. However, this simple pork dish carries most memorable childhood moments as well as the home-feel taste for most people.
I would cook this once in a while, simple reason, it goes just so well with a plate of hot steamed rice! And, it's just too simple to cook!
Serves 2-3
Ingredients
250g of pork meat, minced
1-2 leaves of preserved sweet Mei Cai (甜梅菜干), soaked for 15 minutes, squeezed dry and chopped
1/2 teaspoon of sugar
Few drops of sesame oil
1 clove of garlic, minced
1 tablespoon of light soy sauce
1/2 teaspoon of ground white pepper
Few drops of Thai fish sauce
1.5 teaspoons of corn starch
Method
(1) Season chopped Mei Cai with sugar and sesame oil. Set aside.
(2) Mix pork, garlic, light soy sauce, pepper and fish sauce well. Season for 20-30 minutes.
(3) Then, mix in corn starch, followed by marinated Mei Cai. Place pork mixture on a heat-resistant deep dish, shape and flatten into a thick disc. Steam for 20 minutes. Serve hot with rice.
Many would say that "hand-chopped" ground pork taste much better than the pre-packed machine-minced. I agreed for most steamed pork dishes, especially steamed minced pork with salted fish bits. Yum! For Mei Cai version, however, I personally thought that the pre-packed machine-minced pork is good enough for this particular pairing though. The soft Mei Cai would go so well with the soft minced meat texture, in this instance. You don't need the bites here.
A serving of my steamed pork dish counts about 180kcal.
Tips: If it's not too troublesome and wish to add aroma to the Mei Cai, you may fry the marinated Mei Cai with some oil on low heat, until aroma releases. Then, cool and add into minced pork before steaming. I did not do this step as I thought it was tasty enough and I liked the soft texture of the steamed Mei Cai in the pork dish.
* There are two types of Mei Cai, Saltish and Sweet which will be stated on the packages. Choose the one labeled "sweet". It's available in major (Asian) supermarket and provision shops. I got it from NTUC Fairprice.