"Looking for pineapple tart recipe? Here's my homemade pineapple tart, in rolls, from scratch. It's simple that even a beginner in baking could do it!"
I made and am always making the express pineapple tarts, using store-bought pineapple jam filling from Phoon Huat shops. Both the open-faced tart and ball types. Just making the crust, and my tarts were ready to be indulged in. For this good year, I've made the filling as well. It's not that the filling is difficult to make. It isn't, but takes time, like 2 hours and so?! Then why now? Because I did not go Phoon Huat, but NTUC Finest supermarket. Saw the Sweet 16 brand pineapple there, I had the urge to make pineapple rolls! Not forgetting my new crust/ cookie pump set, I want to make pineapple rolls! Lol
As I am a 'quick' person with minimal patience, I must make my recipe as simple as possible. Success rate has to be almost 100%! And here you go, to share with you who thinks pineapple tarts/ rolls are difficult to be homemade.
If you like your pineapple tart/ roll to be more crusty (not soft and melting type), aromatic with moist and not too sweet pineapple filling, this is the recipe for you. Trust me, my recipe is a sure to try..
See it, do it and you'll know it. Oh yea, still need 2 hours to simmer the filling, please. No lovely short cut, but some of your time to be stolen away. :)
My pineapple jam filling recipe is also good to make open faced tart type as the cooking method is towards more moist type than completely dried.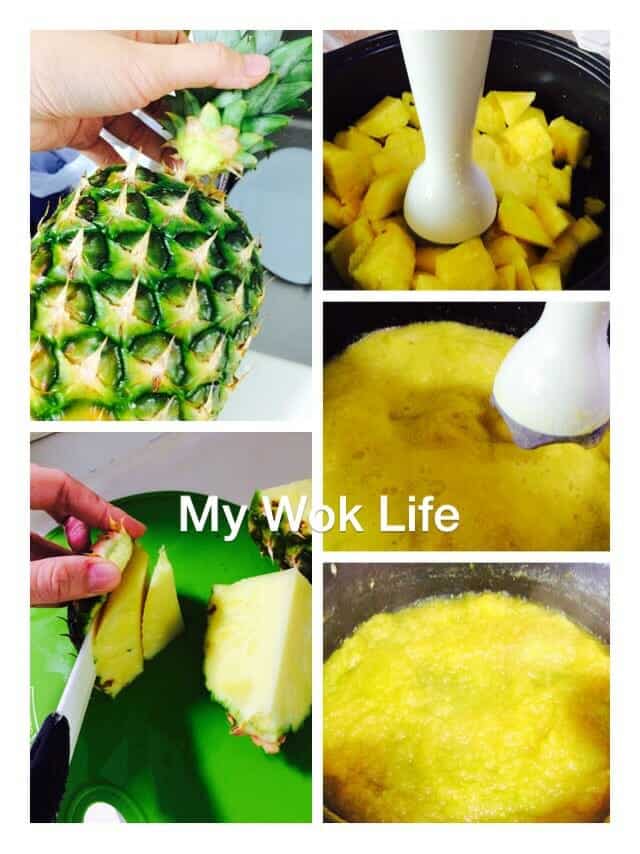 Yields 35-40 rolls
Ingredients for pineapple jam (as filling):
1 large ripe pineapple
120g of raw sugar
1 stick of cinnamon
Ingredients for crust:
350g (plus some excess for dusting) of plain flour
200g of unsalted butter, cold
2 tablespoons of milk powder or creamer (coffeemate)
2 tablespoons of raw sugar
1 teaspoon of vanilla essence
Pinch of salt
Some iced water
1 egg yolk for egg wash
Equipments needed:
Blender
Cookie pump with vvvv design spout

Method:
(1) Twist the pineapple crown. Slice open the pineapple half, crosswise. Then, half again followed by quarter, lengthwise, this time. Cut out the core (don't discard core), and trim off the skin. Cut both the core and pineapple flesh into smaller pieces. Repeat step for the remaining pineapple sectors.
(2) Blend pineapple till refine texture. I used handheld blender and blend it in the large pot. Do not add any water.
(3) Use a large shallow pot, cook blended pineapple together with its juice on medium-low fire. Add sugar and cinnamon stick. Keep it simmer all the way with occasional stirring. Adjust heat to low, if the ingredients turn too bubbling. This goes on until the pineapple juice evaporated and dried out eventually. The final pineapple jam should be moist without any appearance of juice and slightly brownish in color, instead of the initial bright yellowish.
(4) While simmering the pineapple, turn to making pastry dough.
Sieve plain flour. Add milk powder, sugar and salt. Mix them.
(5) Cut cold butter into cubes. Rub it into the flour mixture, one cube by one cube. The dough should be lumpy during the rub-in process. Add tiny bit of water to the kneading occasionally. By the end of the process, the dough should be pliable and not sticky.
It's ok if it appears a little bit lumpy (just add iced water, bit by bit, to knead till non sticking), or the other way round, soft, like what I did (may add more flour, bit by bit, while kneading). No worry, it would still be crusty and nice once baked. :)
(6) Keep dough in refrigerator for 30 minutes. If not using right after that, bring out to room temperature until ready to use, or at least 30 minutes before use.
(7) When pineapple cooking is done. Heat off and dish out to let it cool completely. Divide pineapple filling into 10 cents sized lumps.
(8) Dust your hands with some flour. Stuff some dough into cookie pump with v design spout. Squeeze out dough with about 2.5″ long. Pattern side face down. Place 1 lump of pineapple filling onto the smooth surface. Roll up. Repeat step till all complete.
(9) Preheat oven at 170deg Celsius for 15 minutes. Place completed rolls on greased baking tray. Brush egg wash on the rolls.
(10) Send in oven to bake for 15 minutes. Cool baked pineapple rolls completely before storing. Serve within 2 weeks.
1 pineapple roll counts about 65kcal.
Tips: The amount of sugar can be varied from 100g to 150g, depending on the type of pineapple you are getting as well as your liking to sweetness. I used 120g and find it a little too sweet, but my family thinks it was just nice.
* Use raw brownish sugar is better than white sugar, but you have your options.
* Pineapple used was from NTUC Finest with the brand S&W Sweet16 to guarantee its sweetness and more juicy. This way, you know you may even skip the adding of sugar or keep it minimal like 60-100g. It costs slightly higher at S$3-4 per whole pineapple.
* Cinnamon stick adds aroma and brings up the pineapple taste, overall. If you do not fancy strong cinnamon taste, remove it from the simmering half way. This way, you almost couldn't taste any cinnamon flavour, but simply better aromatic pineapple filling.