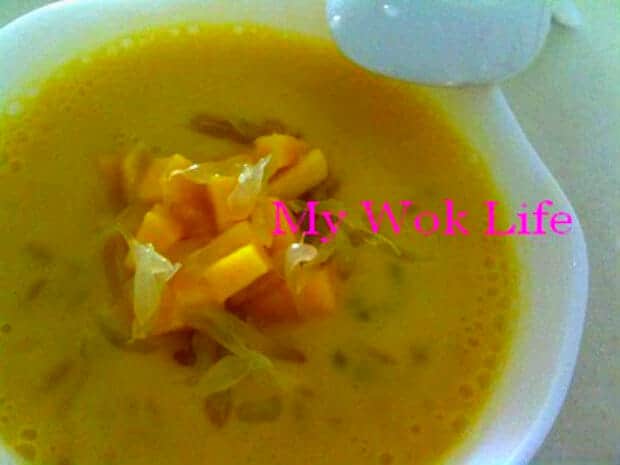 "Dessert time… Once again, you'll get to see my passion to Hong Kong in my cooking. My low-fat version of this all-time favourite and delicious HK sweet treat, the mango sago pomelo dessert. It's cut down in fat, but never in taste. Serve it chilled!"
Sunday is our 'fruit-juice day'. I tried making this occasion a weekend routine every Sunday afternoon. Firstly, I'll get to deplete the over-stocked fruits in my fridge. Secondly, it's easier to maximize the intake of vitamins and minerals by a glass of fruit juice than just one single cut fruit at a time.
To have the fruit fiber in it, I usually blend the whole fruit instead of getting just its juice. So, no worries about wasting the fiber, in most of My's fruit juice recipes (smile).
Well, the 'fruit juice' we had last week wasn't in the juice form. We had mango dessert as I felt like having this Hong Kong popular dessert, Mango & Pomelo Sago dessert, 杨枝甘露 (in Mandarin: Yang Zhi Gan Lu).
Just sharing my experience here before going further… Two weeks ago, I had the mango pomelo (& sago) dessert at one of the HK cafés at Somerset area, and it was so disappointed. The mango sago dessert was so sweet with watery consistency. Imagine having some kind of mango-flavoured sugared water… and I had to pay about S$5 for the dessert that tastes far from my lowest expectation… Oh never mind, there are still many great stores/ restaurants serving great mango sago dessert. Anyway, I, then, decided to make this at home.
Oh well, this sweet savory might look deceptively complex to make, but in fact, it's just something great you could make deliciously within minutes.
This mango dessert usually made with mango juice and cream or condense milk, but I preferred fresh mango or purée purely from fresh mangoes, with low-fat milk. For a fuller and smoother mouthfeel in the palate, this should be a better choice of ingredients used. And, trust me, it tastes so great (smile).
Making the mango dessert at home, it's simple, delicious, and always better quality with lower cost, to satisfy everyone's need for nutrients, with just less than S$10 (smile).
Go ahead to enjoy this super-licious homemade treat with your loved ones this weekend!
Ingredients
2 large ripe mangoes, peeled and pitted (leaving half mango to cut into small cubes for toppings)
3 wedges of sweet pomelo, peeled and sac loosen
400 ml of low fat milk (I used Marigold brand)
2 tablespoons of sugar
3 tablespoons of tiny pearl sago
1 mug of ice cubes
Method
1) Precook the sago: Boil a pot of water over medium-high heat. Place in sago and boil for 10 minutes. Heat off. Cover with lid and let the heating stand for another 5 minutes. It's ok if the white starch in the sago is still visible in this stage. Drain on a fine wire sieve, and pour icy water over. Then, bring sago to a boil in pot again till the the sago turns completely transparent, for about 15 – 20 minutes or longer. Heat off and set aside. (May skip last boiling step if the pearl sago has already cooked completely at the beginning step before drainage on sieve).
2) Now, place mangoes, milk, ice cubes and sugar into blender. Blend ingredients into purée form.
3) Pour and divide the mango mixture into bowls. Use a small strainer to ladle the cooked sago and add into bowls. Add in the loosen pomelo sac. Then, fold the ingredients to mix well.
4) Top mango cubes and some pomelo sac. Serve chilled.
Tips: Some use or add ready mango purée or juice. Some use coconut cream instead of milk or cream. I used just the fresh mangoes and low-fat milk. Taste as good, and it's smooth and healthy!
* Make sure mangoes and pomelo are ripe and sweet.
* Low fat milk can be skimmed or fresh type.
* Adjust the amount of ice cubes and milk to yield your desired texture of this mango dessert.
* Add more sugar, if the mangoes you bought are not as sweet and ripe as expected.