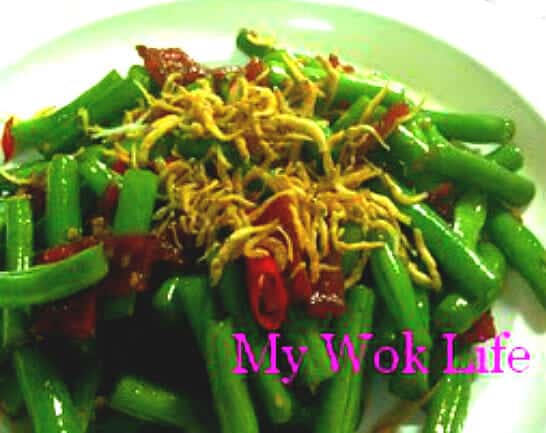 "Turn this common vegetable dish into new revolution to your tastebud"
Our most popular Asian snack, bakkwa, the thinly sliced sheet of dried meat tasted salty sweet, and its texture is similar to jerky, but our bakkwa is more moist.
Now that with the bakkwa added to the French bean, this stir fry has turn into a total new revolution to the tastebuds, it's true!
The cut bird's eye chilli has also plaited an important role in delivering extra zings that complement the dish as well as giving a fulfilling flavour as a whole.
Also don't forget the healthy aroma enhancer to your palate, the crisped fried silver fish, imparts crisp and fragrance.
Such combination yields unimaginable aromatic greens dish which becomes one of my favorite veggie dishes, despite the spiciness in it.
Ingredients
400 grams of French beans, removed fiber on the sides and cut into shorter length
2 slices of BBQ pork slice aka Bak Kwa (肉干), diced in chunks
1 tablespoon of dried silver fish aka noodle fish (银鱼), rinsed and pat dried
2 bird's eye chilli aka chilli padi, chopped
1 clove oh garlic, minced
1/2 teaspoon of chicken granule
1/4 teaspoon of salt
1 teaspoon of water
3 tablespoons of cooking oil
Method
1) Heat wok with oil over medium high fire. Place dried silver fish in the heated wok to shallow fry till crisped and golden browned. Remove from wok and drain on kitchen towel. Set crispy fried silver fish aside.
2) Remove excessive cooking oil to leave only about 1 tablespoon of oil in low-medium heated wok. Add in garlic and chilli padi to stir fry till fragrant and garlic is lightly browned while chilli padi yields pungency.
3) Add in diced Bak-Kwa and stir fry for few seconds before placing French beans. Stir fry for 10 seconds. Drizzle water and cover lid to simmer for 30 seconds. Adjust heat to lower, if necessary.
4) Remove lid. Sprinkle chicken granule and salt. Stir fry to combine. Increase heat to high fire to give it a quick stir for 2 – 3 seconds before heat off. Dish up and top with the crispy fried silver fish. Serve hot with steamed rice.
A portion of French bean dish counts about 250kcal.
Tips: Dried silver fishes are the silverish white tiny fishes which can be found in many provision shops or dried food stores in wet market, neighbourhood area or Asian supermarkets. Silver fish tastes saltish, but simply rinse and pat dry before frying it.