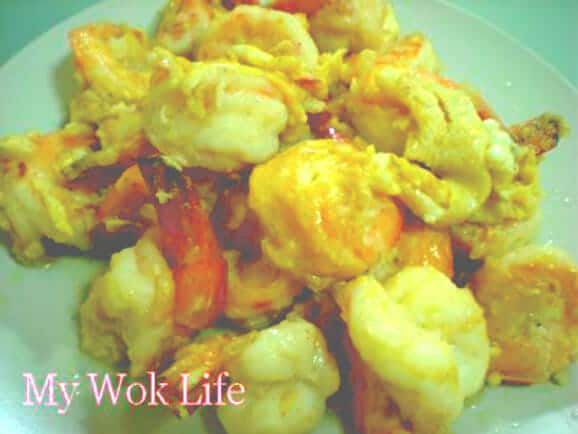 "This is no ordinary fried eggs and prawns dish. This is a scrumptious stir-fried tendery prawns dish, complemented with juicy eggs! Simple, yet, special."
This dish was 'created' by my friend's friend who shared the recipe with me later on, some time back. But the original recipe was slight adapted from use of shell prawns to shelled ones, for convenience sake (laughing). Also, added with butter instead of using normal cooking oil as I find it more fragrant with butter cooking.
The prawns were tender, juicy and springy. The eggs in this prawn dish corresponded well with its 80% doneness. Simple, and yet, delicious dish. Ingredients and condiments used in the dish are not anything extra ordinary, it's the cooking time that execute the dish well. Yes, both prawns and eggs can't be over-cooked, to retain its taste of tenderness and moisture.
See, eggs are not 100% cooked. The eggs in this dish have it best at just 70 – 80% done. As such, it nourishes the prawns and yields extra juiciness and fragrance in the palate.
Need not to beat the eggs beforehand. Just crack eggs directly to the wok, and stir immediately to slighty combine them, and have the eggs clinched on these prawns.
Ingredients
400 gram of medium prawns, deveined and shelled with tail remained intact
2 eggs
3 cloves of garlic, mashed
1 tablespoon of Hsao Hsing Hua Diao rice wine (绍兴花雕酒)
1 teaspoon of butter
Sprinkle of sesame oil
Pinch of salt and ground white pepper
Sprinkle of coarse ground black pepper
Method
1) Wash and remove prawn shell, leave only its tail intact. Cut a deep slit at the back of each prawn to devein. Season prawns with some coarse ground black pepper.
2) Heat butter in a wok over medium fire. Add garlic and fry till fragrant.
3) Add in prawns, stir continuously to remain tenderness. Then, add sesame oil, salt and pepper. Stir fry for another 1 minute.
4) Once prawns are cooked, pour eggs on top of prawns, and stir immediately to combine eggs with prawns well.
5) Sprinkle Hua Diao rice wine, and heat off when eggs are almost 80% done. Serve.
To make prawns a little crisped outside and remain extra juiciness inside, you may consider slightly deep fry the prawns till just half cooked, for less than 30 seconds (过油), and immediately remove from oil and drain on kitchen towel, right before cooking with the listed steps. It makes the prawns more springy and interesting bites. However, the extra calories may stop you from having such fanciful experience (chuckling).