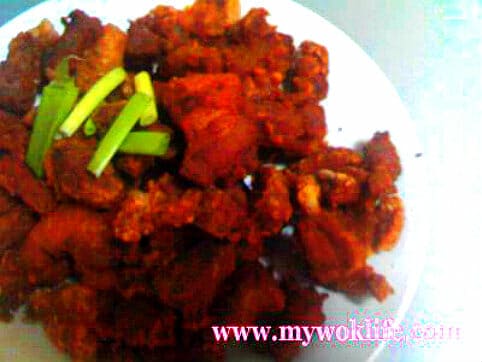 "Extra Juicy, Crispy & Frangrant Fried Pork with Red Soy Bean Curd"
I have a special dish to introduce to you.
You probably taste or at least heard about preserved soy bean curd (Chinese translation: 豆腐乳) which normally goes well with plain porridge as side dish, but have you came across red soy bean curd?
RED soy bean curd (Chinese translation: 红腐乳or南乳 ), also called preserved red bean curd or red tofu cheese. It is made of fermented tofu with salting process for more than 30 hours. It then be removed from the bottles, and added with red rice wine. Lastly, it will be preserved for another 60 days as second fermentation, before consumption.
Red soy bean curd originated from Sichuan. It is to be taken as side dish, or for food marinating. So, I made this pork dish using red soy bean with below recipe. It's simple and fast to make. Red soy bean curd flavoured fried pork is a unique and flavoursome dish. Its robust and briny taste loved by everyone. Please expect extra fragrance from this intensive pork meat to linger in your palate for awhile (chuckling)!
Ingredients
1 cup of 3-layer pork belly (about 400 grams), sliced
2 – 3 cubes of red soy bean curd (with 1 teaspoon of its marinating sauce from the jar)
1 teaspoon of Shao Hsing Hua Diao rice wine (绍兴花雕酒)
Sprinkle of sugar
1 tablespoon of corn starch
1 cup of oil (for deep-frying)
Method
1) Place pork into a bowl. Add in red soy bean and its sauce, sugar, and rice wine. Combine well.
2) Marinate for few hours (3-4 hours, at least).
3) Heat wok with oil over high heat. Sprinkle with pinch of salt.
4) Coat marinated pork with corn starch flour before placing in oil.

5) Now place pork in wok to deep fry. Bring down heat to medium fire, slow fry for 15 – 20 min, or until browned and crisped. Remove from wok using strainer and drain on kitchen towel. Serve with hot steamed white rice or noodles.

A small portion of this pork dish counts about 400kcal. 3-layer pork meat is more fattening, you know… How about using shoulder butt? It reduces much calories with this pork part. Just expect a little less juicy texture.
Tips: I used only 2 cubes to marinate pork the night before, and store in refrigerator overnight for tomorrow's cooking. Taste is excellent!