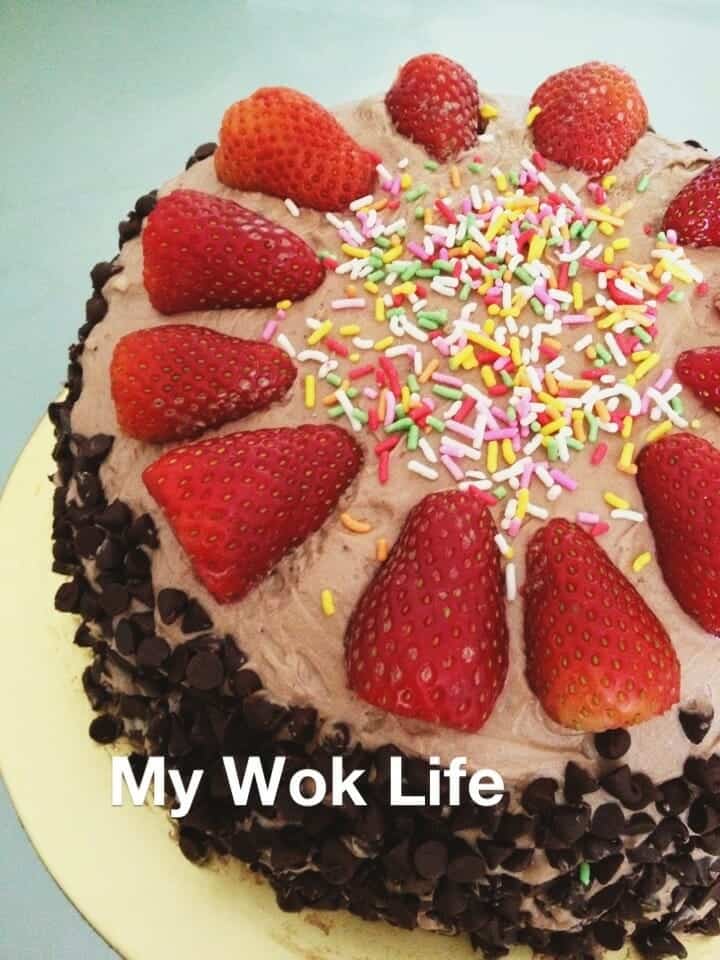 "Birthday Cake"
Hubby's birthday, and he doesn't like to celebrate elaborately (not at all, in fact). So, nothing huge, seriously, just a (western) home-baked, and (Chinese) home-cooked 'Mee Sua' dinner, yesterday. Hub might not sound happy or impressed for my sweet effort (feeling so sad), but I knew down in his heart, he appreciates it. At least, he would like the mee sua (Chinese thin strands wheat flour vermicelli) soup with chicken drumstick and 2 red hard-boiled eggs, a traditional Chinese ritualized birthday meal, by and from his beloved grandma.. :)
Frankly, baked this cake, simply because a trial baking was needed. Ha. Yes, it was for a trial, to prepare my son's coming 1 year old birthday! If this was successful, I would have more confidence to bake a bolder cake, using this recipe for an adaption, for a bigger crowd, in the up-coming celebration. My most important event, son's first birthday. Yay. :)
Yields 9-inch cake
Ingredients
2 ¼ cups (315 grams) of self raising flour, sieved
1 teaspoon of baking powder
1 ½ cups (300 grams) of granulated sugar
¾ cup (172.5 grams/ 1 ½ sticks) of butter, softened
200ml of full cream milk (coffee flavoured milk, if wished), room temperature
3 medium eggs, room temperature
3 teaspoons of coffee essence
1 tablespoon of vanilla essence
100 grams of semi-sweet baking chocolate, melted (into 3-4 tablespoons)
Decoration:
1 cup of mini chocolate chips
1 tablespoon of rainbow chocolate rice
6-7 fresh strawberries, halved
Frosting and Filling (Chocolate Cream Cheese)
Method
1) Pre-heat oven to 180 °C (350°F).
2) Line or grease one 9-inch cake pan.
3) Mix sieved flour, sugar and baking powder in a large bowl. Set aside.
4) Pour milk, eggs, and essences into a bowl and briefly stir to mix a little. Set aside.
5) Cream butter with electric mixer at slow speed. Gradually add flour mixture, followed by gradual adding of milk mixture. Increase speed to medium and continue beating for about 1-2 minutes, or until all well combined. Then, fold in 3 tablespoons of melted chocolate.
6) Pour batter into greased / lined pan and bake for 38 – 40 minutes, or until toothpick inserted in the centre comes out clean.
7) When done, allow cake to cool to room temperature. Trim the sides of the cake. Then, slice the cake into 2 layers to add cream cheese filling.
8) For frosting and filling, see: Chocolate Cream Cheese Frosting recipe.
9) Use a portion of the cream cheese frosting to spread a layer in between the cake, as filling. The remaining, use all to frost the entire cake.
10) Decorate the cake. Store in the refrigerator until ready to serve.
Home-baked birthday cake is always the best. It may not be the most beautiful cake, but it is definitely the most sincere and heart-melting one to own during birthday. Sincerity, heart warning, taste to your desire, and economical, what's more one could ask for. :)
Last, but not least, Happy Birthday, to hub, and to everyone whose birthday falls in September.
Tips: Granulated sugar used in the cake batter may be adjusted for desired sweetness of the cake. For sweeter cake, use 350 grams of sugar instead of 300 grams.
* Same for cream cheese frosting, mine version is not very sweet type. If desired, add another ½ to 1 cup of powdered sugar (icing sugar) to the frosting.
* For baking chocolate bar, I used Red Man brand (comes in a large packet of 1 kg) which is available at NTUC Fairprice supermarket, or Phoon Huat baking supplies store. Simply break a section of 200 gram to melt in double boiler over simmering water on low heat, for the cake and frosting use. May expect some excess of chocolate sauce.
* Remember to monitor baking time, it could be taking longer than usual to bake the cake depending on the oven used. No worries if it takes longer than 4o minutes to bake, you may want to lower the temperature to 150°C-160°C for the continuation, to avoid burning at the top. Also check its doneness constantly.
* Line baking pan with baking sheet, or lightly grease with butter.