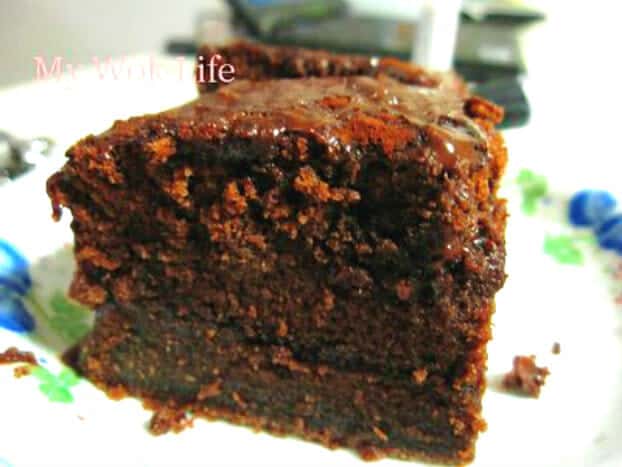 "Bake a luscious chocolate moist layer cake with rich frosting at home for an extended tea time over your beautiful weekends!"

It's a chocolate cake. It's a fudge cake. It's a moist cake. It's a layer cake.
Yes, it's my chocolaty fudge moist layer cake using milk chocolates. And, it's simple to bake!
I realized that I have plenty of milk chocolate bars at home remained untouched which my initial intention was to stock up for consumption as snack over TV time. . I knew it's time to find a way to reduce the inventory. I used some to bake my cake (I used milk chocolate bar from Royce)!
The texture of my chocolate cake is not as fluffy as sponge cake. It was more like soft brownie kind of mouth feel, tastes very fudgy and compact in the palate, but certainly not hard or dry neither. Super moist, in fact!
This recipe yields thick and moist chocolate cake. As I used moderate amount of milk chocolates (instead of much dark chocolates) in this cake, it was ideally flavoured, and never tasted too-rich till feeling repelled even after a big slice of it. It was a big hit and well-liked by my family, and even friends when I served them during their visit to my place, for snack and/or supper. I will also keep some for my hubby's and my colleagues to taste the next day of bake. Fresh and tasty, still.
Many said that chocolate cake is difficult to make. I agreed. I remembered my fist chocolate cake turned out to be more like chewy 'kueh' (steamed cake) texture than a fluffy one. Laughing! However, the fact has turned round with this recipe where I mixed and matched from a few chocolate cake recipes online which has now been adapted into mine (winking smile). Yes, no premix cake flour used in this recipe. There are only basic ingredients with simple self raising flour. Yet, it was not too complicated to have it baked terrifically. Give it a try now!
Ingredients
Cake:
250 gram of self raising flour, sieved
50 gram of cocoa powder
260 gram of brown sugar
250 gram of milk chocolate bar, break into pieces
250 gram of butter, softened
200 ml of water
4 eggs
Rich chocolate frosting (Icing) and filling:
380 gram of semi-sweet dark chocolate (or milk chocolate), melted
150 gram of icing sugar
60 gram of cocoa powder
30 gram of butter, melted
30 – 50 ml of low-fat milk
1 – 2 teaspoon of cocoa powder for dusting (Optional)
Utensil:
Electrical mixer
8" – 9″ cake tin
Method:
1) Melt milk chocolate and butter together with double boiler on stove over slow fire.
2) In the meantime, place flour, sugar and cocoa powder in a large mixing bolw. Add eggs and water into the dry mixture. Beat with electrical mixer with low speed for 1 – 2 minutes.
3) Stop beating, add in warm melted chocolate and butter mixture. Continue beating with medium-low speed (speed no.2 out of 5) for 6 – 8 minutes, or until it looks smooth and lightly foamy kind of consistency (you may test its readiness by scooping a spoonful of mixture, and it should adhere on the upturned spoon for at least 1 second).
4) Grease 8" square or round cake tin evenly using butter or olive oil, or you may line the non-grease paper sheet, if desired. Spoon cake mixture into cake tin.
5) Preheat oven using 150°C (top and bottom heat on). Place cake tin at centre rack. Bake for 1 hour. Toothpick inserted to the cake should come out clean. Allow cake to cool on wire rack, for about an hour.
6) While waiting for cake to cool, let's do the chocolate frosting and filling: Combine melted chocolate and butter in a mixing bowl. Beat in 30g milk in stages, followed by cocoa powder and sugar. Slowly add in more milk (by teaspoon) to get the right spreading consistency while beating the mixture with electrical mixer, if necessary.
7) When cake is completely cooled, remove from tin and slice it horizontally into 2 – 3 layers. Then, sandwich the cake by spreading chocolate frosting on each layer of cake before placing another layer on top. Thereafter, frost the entire cake in a thick layer and smooth it down evenly.
8) Keep in the refrigerator for 1 hour to serve it chilled, as desired. Sift some cocoa powder on the top of the cake or dust a thin layer on the entire surface, dusting as decoration, just before cutting the cake for serving.
This cake yields about 350kcal per serving.
Tips: You may experience crack(s) on top of the cake towards the end of baking time, but it's alright, its texture will NOT appear hard or dry, and it can be covered with frosting.
* Store the balance chocolate frosting in the refrigerator for future use, if any leftover.
* If making the frosting by your own is too much work for you, buy ready chocolate frosting at the supermarket stores!